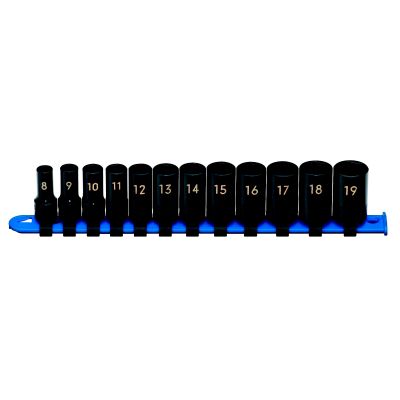 SBIPM126TA3/8" DRIVE 12 PIECE METRIC 6 POINT MID-LENGTH IMPACT SOCKET SET
SBIPM126TA 3/8" DRIVE 12 PIECE METRIC 6 POINT MID-LENGTH IMPACT SOCKET SET
Features & Benefits
Opti-Torque Pro(R) applies torque to fastener sides, not corners which allows more torque to fastener and longer life
Counter-Torque distributes the torquing stress uniformly throughout the socket extending socket life
High-visibility laser markings to identify socket sizes at a glance
Includes sizes: 8mm - 19mm
Color-coded socket rail features unique spring-loaded ball allowing easy socket removal and replacement
Return Policy
Return for refund within: 30 days
Return for replacement within: 30 days
| Part # | Product Name | Qty in Set |
| --- | --- | --- |
| BIP8M6A | 3/8 8MM SEMI DEEP IMP SKT | 1 |
| BIP9M6A | 3/8 9MM SEMI DEEP IMP SKT | 1 |
| BIP10M6A | 3/8 10MM SEMI DEEP IMP SKT | 1 |
| BIP11M6A | 3/8 11MM SEMI DEEP IMP SKT | 1 |
| BIP12M6A | 3/8 12MM SEMI DEEP IMP SKT | 1 |
| BIP13M6A | 3/8 13MM SEMI DEEP IMP SKT | 1 |
| BIP14M6A | 3/8 14MM SEMI DEEP IMP SKT | 1 |
| BIP15M6A | 3/8 15MM SEMI DEEP IMP SKT | 1 |
| BIP16M6A | 3/8 16MM SEMI DEEP IMP SKT | 1 |
| BIP17M6A | 3/8 17MM SEMI DEEP IMP SKT | 1 |
| BIP18M6A | 3/8 18MM SEMI DEEP IMP SKT | 1 |
| BIP19M6A | 3/8 19MM SEMI DEEP IMP SKT | 1 |
| SKTRL10M | METRIC SKT RAIL 10-1/2 WORK | 1 |
| STUD12 | 3/8 IN STUD F/SOCKET RAIL | 12 |
3/8'' DRIVE 12 PIECE METRIC 6 POINT MID-LENGTH IMPACT SOCKET SET
9
9
Mid-lengths are must-have
For when shallow isn't enough and deep is too much, mid-length saves the day. I haven't broken any or rounded any bolt heads and high-visibility markings let you grab it and go.
November 3, 2013
highlly visible sizes
i like the fact that the sizes are highlly visible.
October 11, 2011
Great doesn't round off bolts
These are a must for any mechanic best on the market
October 9, 2012
Quality Sockets
These sockets are great. I have been using this socket set for four years and use these sockets everyday for 8 hours a day and still look brand new with no wear on them. I like the big numbers so you can grab them on the fly and know what socket you grabbed.
September 25, 2011
Great price!!!
I purchased these sockets about 10 years ago and the only reason I had to replace any of them was because I lost them. You cvan still read the sizes on the sockets with no problem and believe me I'm tough on them!
November 14, 2011
awsome sockets
i really use these sockets on a daily bases, i have not yet rounded off a bolt or anything of that kind with these sockets. I really recommand these sockets to to everyone to own this set.
September 1, 2011
The Best Sockets I Bought
These sockets will out last any snap-on or mac socket. I love this set and its worth the money to get a good quality socket. The big numbering is a bonus too.
September 28, 2011
very nice set
this set is highly recommended for any mechanic. these sockets are very durable and have not rounded off a bolt since ive owned them.
September 16, 2011