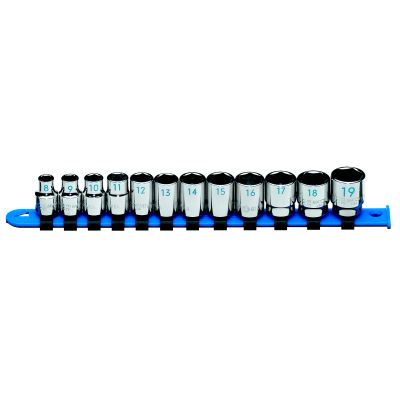 SBM126TA3/8 " DRIVE 12 PIECE METRIC 6 POINT CHROME SOCKET SET
SBM126TA 3/8 " DRIVE 12 PIECE METRIC 6 POINT CHROME SOCKET SET
Features & Benefits
12-Piece 6-Point 3/8" Drive Metric Socket Set
Opti-Torque(TM) applies torque to fastener sides, not corners which allows more torque to fastener and longer life.
Counter-Torque(TM) distributes the torquing stress uniformly throughout the socket extending socket life.
Hi-Visibility to identify socket sizes at a glance with oversized laser markings (red for SAE, blue for metric).
Includes sizes: 8mm - 19mm
Return Policy
Return for refund within: 30 days
Return for replacement within: 30 days
| Part # | Product Name | Qty in Set |
| --- | --- | --- |
| B8M6A | 3/8 X 8MM 6 PT SOCKET | 1 |
| B9M6A | 3/8 X 9MM 6 PT SOCKET | 1 |
| B10M6A | 3/8 X 10MM 6 PT SOCKET | 1 |
| B11M6A | 3/8 X 11MM 6 PT SOCKET | 1 |
| B12M6A | 3/8 X 12MM 6 PT SOCKET | 1 |
| B13M6A | 3/8 X 13MM 6 PT SOCKET | 1 |
| B14M6A | 3/8 X 14MM 6 PT SOCKET | 1 |
| B15M6A | 3/8 X 15MM 6 PT SOCKET | 1 |
| B16M6A | 3/8 X 16MM 6 PT SOCKET | 1 |
| B17M6A | 3/8 X 17MM 6 PT SOCKET | 1 |
| B18M6A | 3/8 X 18MM 6 PT SOCKET | 1 |
| B19M6A | 3/8 X 19MM 6 PT SOCKET | 1 |
3/8 '' DRIVE 12 PIECE METRIC 6 POINT CHROME SOCKET SET
6
6
USA Made but had lots of issues
Im assuming these are made by a Danaher owned company so on the surface they are a nice product. Nickel not chrome plated like the best ones. I had issues with the points of the socket rounding off with very little use. The nickel started to flake on one of the sockets, and this is after I only had them for 2 months. The rail is VERY nice extremely high quality. The Blue Size stamp is a nice feature but that also started to wear off with very little use. I sold them. I LOVE MATCO but the sockets are a weak point for me. For the price they should be better.
October 26, 2013
top notch
have had these for years, great sockets. laser etching will wear off on commonly used sockets. love the rails. chrome chipped on a couple but i use impacts on chrome all the time, so can't really blame the product.
December 2, 2011
top quality
i have put these sockets through alot and never had a problem
December 16, 2011
This is the best set of sockets I have ever used.
I bought this socket set to replace an older socket set. The performance of this set is great. I use them daily and i wouldn't trade them for a snap on set.
September 3, 2011
easy to find
handles the abuse and the laser etched size is awesome. these sockets have never let me down.
September 29, 2011
WONDERFUL
GREAT SOCKETS I USE THEM ALL THE TIME AND NEVER HAD ONE BRAKE OR ROUND OFF A BOLT
September 14, 2011