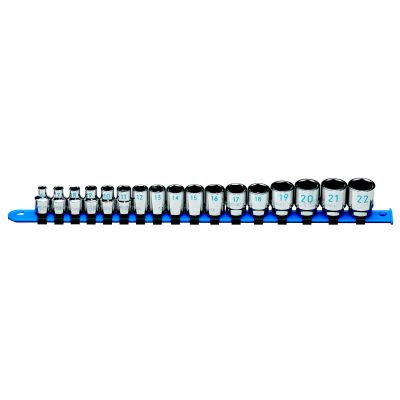 SBM176TA3/8" DRIVE 17 PIECE METRIC 6 POINT CHROME SOCKET SET
SBM176TA 3/8" DRIVE 17 PIECE METRIC 6 POINT CHROME SOCKET SET
Features & Benefits
Opti-Torque applies torque to fastener sides, not corners which allows more torque to fastener and longer life
Counter-Torque distributes the torquing stress uniformly throughout the socket extending socket life
High-Visibility laser markings to identify socket sizes at a glance
Includes sizes: 6mm - 22mm
Color-coded socket rail features unique spring-loaded ball allowing easy socket removal and replacement
Return Policy
Return for refund within: 30 days
Return for replacement within: 30 days
| Part # | Product Name | Qty in Set |
| --- | --- | --- |
| B6M6A | 3/8 X 6MM 6 PT SOCKET | 1 |
| B7M6A | 3/8 X 7MM 6 PT SOCKET | 1 |
| B8M6A | 3/8 X 8MM 6 PT SOCKET | 1 |
| B9M6A | 3/8 X 9MM 6 PT SOCKET | 1 |
| B10M6A | 3/8 X 10MM 6 PT SOCKET | 1 |
| B11M6A | 3/8 X 11MM 6 PT SOCKET | 1 |
| B12M6A | 3/8 X 12MM 6 PT SOCKET | 1 |
| B13M6A | 3/8 X 13MM 6 PT SOCKET | 1 |
| B14M6A | 3/8 X 14MM 6 PT SOCKET | 1 |
| B15M6A | 3/8 X 15MM 6 PT SOCKET | 1 |
| B16M6A | 3/8 X 16MM 6 PT SOCKET | 1 |
| B17M6A | 3/8 X 17MM 6 PT SOCKET | 1 |
| B18M6A | 3/8 X 18MM 6 PT SOCKET | 1 |
| B19M6A | 3/8 X 19MM 6 PT SOCKET | 1 |
| B20M6A | 3/8 X 20MM 6 PT SOCKET | 1 |
| B21M6A | 3/8 X 21MM 6 PT SOCKET | 1 |
| B22M6A | 3/8 X 22MM 6 PT SOCKET | 1 |
3/8'' DRIVE 17 PIECE METRIC 6 POINT CHROME SOCKET SET
8
8
Great sockets. Easy to read.
These sockets are great. The numbering is very easy to read. Also the numbering looks like it will last longer than on an ADV set. Very high quality sockets. And the rail they come on are nice. They don't tare gloves like cheap metal rails.
December 27, 2013
Wonderful set
I ordered these for Christmas and so far I love them. They have a super nice fit over the Matco ratchets and they just work great. The only problem is that the painted number sizes tend to wear off a little. But they also have the engraved sizes on the bottom so it's not too bad.
January 10, 2013
Great set
this is a great set of sockets, they are really nice and the craftsmanship is great. they are a great set for me and I use them a lot. The numbers on the sockets are high visibility too so thats nice. everyone should have a set like this. GREAT SET MATCO!!!!
December 11, 2011
Love it
every socket clearly marked in blue(including the rail, that deserves its own review) I never have to look for the socket I need, just grab it and go. I have yet to round a nut. Also got the standard socket set love it just as much.
October 30, 2011
great product
bought these sockets and they are nice. easy to see and read which socket is which. the socket rail is also nice easy to get the sockets on and off of it
December 28, 2011
Quality combined with innovation
The set was the best bang for the buck when I bought it, since its 6-22mm. Owned over a year and have not broken one socket yet! And the blue size markings are still on, very pleased with them!
November 4, 2011
Top quality
This is a great set to own for all mechanics. Great markings on the side of each socker for high visibility. Comes w/ the rail too! Sockets are very well made and never had a 'slip out'.
November 4, 2011
great socket set
heavy duty and I love the fact that the sockets are labeled on both sides.
September 28, 2011