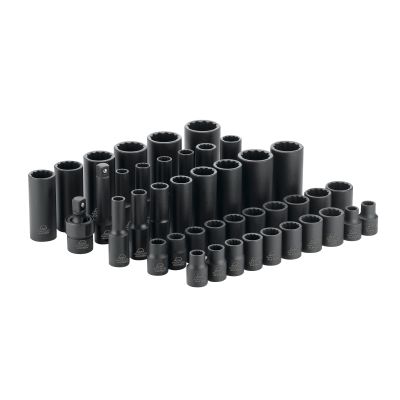 SBP422V3/8" DRIVE 42 PIECE SAE & METRIC 12 POINT STD AND DEEP IMPACT SOCKET SET
SBP422V 3/8" DRIVE 42 PIECE SAE & METRIC 12 POINT STD AND DEEP IMPACT SOCKET SET
Features & Benefits
Opti-Torque system applies torque to the fastener sides reducing corner round off
150 degree chamfer on the socket drive end for better grab, constant pressure and easier use.
High Visibility size markings quickly identify socket
Sizes include: 5/16" - 3/4", 8mm-19mm, Universal Joint, 3" Extension
Return Policy
Return for refund within: 30 days
Return for replacement within: 30 days
| Part # | Product Name | Qty in Set |
| --- | --- | --- |
| BP102V | 3/8DR IMP 12PT SKT 5/16" | 1 |
| BP122V | 3/8DR IMP 12PT SKT 3/8" | 1 |
| BP142V | 3/8DR IMP 12PT SKT 7/16" | 1 |
| BP162V | 3/8DR IMP 12PT SKT 1/2" | 1 |
| BP182V | 3/8DR IMP 12PT SKT 9/16" | 1 |
| BP202V | 3/8DR IMP 12PT SKT 5/8" | 1 |
| BP222V | 3/8DR IMP 12PT SKT 11/16" | 1 |
| BP242V | 3/8DR IMP 12PT SKT 3/4" | 1 |
| BP8M2V | 3/8DR IMP 12PT SKT 8MM | 1 |
| BP9M2V | 3/8DR IMP 12PT SKT 9MM | 1 |
| BP10M2V | 3/8DR IMP 12PT SKT 10MM | 1 |
| BP11M2V | 3/8DR IMP 12PT SKT 11MM | 1 |
| BP12M2V | 3/8DR IMP 12PT SKT 12MM | 1 |
| BP13M2V | 3/8DR IMP 12PT SKT 13MM | 1 |
| BP14M2V | 3/8DR IMP 12PT SKT 14MM | 1 |
| BP15M2V | 3/8DR IMP 12PT SKT 15MM | 1 |
| BP16M2V | 3/8DR IMP 12PT SKT 16MM | 1 |
| BP17M2V | 3/8DR IMP 12PT SKT 17MM | 1 |
| BP18M2V | 3/8DR IMP 12PT SKT 18MM | 1 |
| BP19M2V | 3/8DR IMP 12PT SKT 19MM | 1 |
| BDP102V | 3/8DR DP IMP 12PT SKT 5/16" | 1 |
| BDP122V | 3/8DR DP IMP 12PT SKT 3/8" | 1 |
| BDP142V | 3/8DR DP IMP 12PT SKT 7/16" | 1 |
| BDP162V | 3/8DR DP IMP 12PT SKT 1/2" | 1 |
| BDP182V | 3/8DR DP IMP 12PT SKT 9/16" | 1 |
| BDP202V | 3/8DR DP IMP 12PT SKT 5/8" | 1 |
| BDP222V | 3/8DR DP IMP 12PT SKT 11/16" | 1 |
| BDP242V | 3/8DR DP IMP 12PT SKT 3/4" | 1 |
| BDP8M2V | 3/8DR DP IMP 12PT SKT 8MM | 1 |
| BDP9M2V | 3/8DR DP IMP 12PT SKT 9MM | 1 |
| BDP10M2V | 3/8DR DP IMP 12PT SKT 10MM | 1 |
| BDP11M2V | 3/8DR DP IMP 12PT SKT 11MM | 1 |
| BDP12M2V | 3/8DR DP IMP 12PT SKT 12MM | 1 |
| BDP13M2V | 3/8DR DP IMP 12PT SKT 13MM | 1 |
| BDP14M2V | 3/8DR DP IMP 12PT SKT 14MM | 1 |
| BDP15M2V | 3/8DR DP IMP 12PT SKT 15MM | 1 |
| BDP16M2V | 3/8DR DP IMP 12PT SKT 16MM | 1 |
| BDP17M2V | 3/8DR DP IMP 12PT SKT 17MM | 1 |
| BDP18M2V | 3/8DR DP IMP 12PT SKT 18MM | 1 |
| BDP19M2V | 3/8DR DP IMP 12PT SKT 19MM | 1 |
| BUP2BV | 3/8DR UNIV IMP ADAPTER | 1 |
| BXP3V | 3/8DR IMP EXTENSION - 3" | 1 |
3/8'' DRIVE 42 PIECE SAE & METRIC 12 POINT STD AND DEEP IMPACT SOCKET SET
4
4
Really nice set, I just wish it went to 1"
I have only used them a few times, I normally use 1/2 drive, but they have met all of my exceptions. My only complaint is it stops at 3/4 I wish it went up to 1 inch.
April 19, 2013
Nice visable markings
This is my new go to socket set. Great quality at an awesome price.
March 29, 2013
Great sockets
This set is awesome, I use it more than my SO socket set. Just wish they were made in USA. Other than that flawless
March 8, 2013
awesome sockets, not bulky for being impacts
Bought this set about a year ago, Definately glad i went with the 12 point because i find myself needing 12 points with a 3/8 drive all the time. These sockets are not to thick, about the size of chromes. Great product.
June 13, 2012