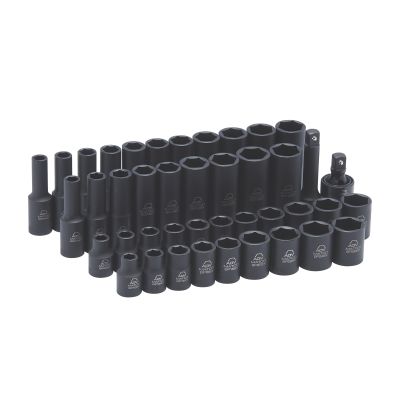 SBP426V3/8" DRIVE 42 PIECE SAE & METRIC 6 POINT DEEP IMPACT SOCKET SET
SBP426V 3/8" DRIVE 42 PIECE SAE & METRIC 6 POINT DEEP IMPACT SOCKET SET
Features & Benefits
Opti-Torque system applies torque to the fastener sides reducing corner round off
150 degree chamfer on the socket drive end for better grab, constant pressure and easier use.
High Visibility size markings quickly identify socket
Sizes include: 8mm - 19mm, 5/16" - 3/4", Universal joint, 3" Extension
Return Policy
Return for refund within: 30 days
Return for replacement within: 30 days
| Part # | Product Name | Qty in Set |
| --- | --- | --- |
| BP106V | 3/8DR IMP 6PT SKT 5/16" | 1 |
| BP126V | 3/8DR IMP 6PT SKT 3/8" | 1 |
| BP146V | 3/8DR IMP 6PT SKT 7/16" | 1 |
| BP166V | 3/8DR IMP 6PT SKT 1/2" | 1 |
| BP186V | 3/8DR IMP 6PT SKT 9/16" | 1 |
| BP206V | 3/8DR IMP 6PT SKT 5/8" | 1 |
| BP226V | 3/8DR IMP 6PT SKT 11/16" | 1 |
| BP246V | 3/8DR IMP 6PT SKT 3/4" | 1 |
| BP8M6V | 3/8DR IMP 6PT SKT 8MM | 1 |
| BP9M6V | 3/8DR IMP 6PT SKT 9MM | 1 |
| BP10M6V | 3/8DR IMP 6PT SKT 10MM | 1 |
| BP11M6V | 3/8DR IMP 6PT SKT 11MM | 1 |
| BP12M6V | 3/8DR IMP 6PT SKT 12MM | 1 |
| BP13M6V | 3/8DR IMP 6PT SKT 13MM | 1 |
| BP14M6V | 3/8DR IMP 6PT SKT 14MM | 1 |
| BP15M6V | 3/8DR IMP 6PT SKT 15MM | 1 |
| BP16M6V | 3/8DR IMP 6PT SKT 16MM | 1 |
| BP17M6V | 3/8DR IMP 6PT SKT 17MM | 1 |
| BP18M6V | 3/8DR IMP 6PT SKT 18MM | 1 |
| BP19M6V | 3/8DR IMP 6PT SKT 19MM | 1 |
| BDP106V | 3/8DR DP IMP 6PT SKT 5/16" | 1 |
| BDP126V | 3/8DR DP IMP 6PT SKT 3/8" | 1 |
| BDP146V | 3/8DR DP IMP 6PT SKT 7/16" | 1 |
| BDP166V | 3/8DR DP IMP 6PT SKT 1/2" | 1 |
| BDP186V | 3/8DR DP IMP 6PT SKT 9/16" | 1 |
| BDP206V | 3/8DR DP IMP 6PT SKT 5/8" | 1 |
| BDP226V | 3/8DR DP IMP 6PT SKT 11/16" | 1 |
| BDP246V | 3/8DR DP IMP 6PT SKT 3/4" | 1 |
| BDP8M6V | 3/8DR DP IMP 6PT SKT 8MM | 1 |
| BDP9M6V | 3/8DR DP IMP 6PT SKT 9MM | 1 |
| BDP10M6V | 3/8DR DP IMP 6PT SKT 10MM | 1 |
| BDP11M6V | 3/8DR DP IMP 6PT SKT 11MM | 1 |
| BDP12M6V | 3/8DR DP IMP 6PT SKT 12MM | 1 |
| BDP13M6V | 3/8DR DP IMP 6PT SKT 13MM | 1 |
| BDP14M6V | 3/8DR DP IMP 6PT SKT 14MM | 1 |
| BDP15M6V | 3/8DR DP IMP 6PT SKT 15MM | 1 |
| BDP16M6V | 3/8DR DP IMP 6PT SKT 16MM | 1 |
| BDP17M6V | 3/8DR DP IMP 6PT SKT 17MM | 1 |
| BDP18M6V | 3/8DR DP IMP 6PT SKT 18MM | 1 |
| BDP19M6V | 3/8DR DP IMP 6PT SKT 19MM | 1 |
| BUP2BV | 3/8DR UNIV IMP ADAPTER | 1 |
| BXP3V | 3/8DR IMP EXTENSION - 3" | 1 |
3/8'' DRIVE 42 PIECE SAE & METRIC 6 POINT DEEP IMPACT SOCKET SET
57
57
Awsome
This is a great set!! Comes in a nice plastic case! Easy to read sizes!! Great price!
April 12, 2014
has everything you need!!
this set has all you need for a 3/8" impact set. Although it could use a few more (longer) extensions to make it complete!!
March 2, 2014
These are a must for the tool box!
This is a great starter set of impacts for the price. Both sae metric shallow and deep. All the sizes u use all day long in a shop on passenger cars. It would of been a perfect set if they would have put the 13/16 socket but they stopped at 3/4. Not big deal if your using 13/16 for tires you should be using 1/2 inch gun and socket. Awesome deal.
January 10, 2014
Great Impact Socket Set
Good Starter set with a good range of sizes and bold numbers make for easy locating.
November 10, 2011
Great set of sockets!
This socket set is a great set. I bought mine this morning, I would recommend this set to anyone.
July 23, 2013
Great Tool, Great Price
I Dont Use This Set Everyday But It Does Come In Handy When I Need It. Great Price For A Great Tool, Nothing Comes Close. Would Reccomend This To Anyone. As A Beginner Trying To Buy Tools You Cant Beat The Quality And Price Of This Product. Very Good Addition To Anyones Toolbox.
September 30, 2011
Outstanding quality for a great price
I love that i dont have to waste to much time looking for the size I need because the high vis etching is so clear. I have used these sockets with my 1/2" impact and they have exceeded my expectations. There are two other tool companies that go to my shop and I compared this set to something similar they had and there was a huge difference, meaning Matco was the best price and had more tools in the set and the quality was just as good if not better. I will be purchasing the 1/2" dr set soon.
December 11, 2011
Great Tools, Great Price...Enough Said!
I am a professional mechanic and this set was an extra that I was hoping to get for repairs around the house. It has been absolutely perfect! The is a complete set of all the sockets you would need for projects around the house and light auto work as well! Sockets are clearly marked and are in a nice storage case for ease of storage! I would highly recommend this set to anyone either already in the repair trade or thinking about getting into the repair business! A Must Have for every mechanic!
January 4, 2013