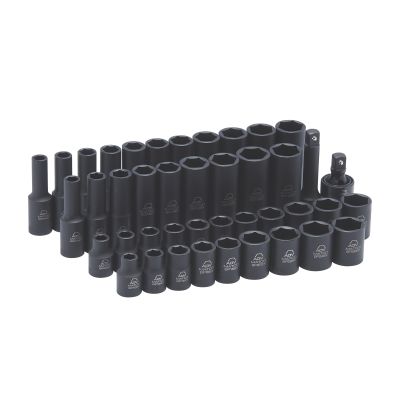 SBP426V3/8" DRIVE 42 PIECE SAE & METRIC 6 POINT DEEP IMPACT SOCKET SET
SBP426V 3/8" DRIVE 42 PIECE SAE & METRIC 6 POINT DEEP IMPACT SOCKET SET
Features & Benefits
Opti-Torque system applies torque to the fastener sides reducing corner round off
150° chamfer on the socket drive end for better grab, constant pressure and easier use
High-visibility size markings quickly identify socket
Sizes include: 8mm - 19mm, 5/16" - 3/4", universal joint, 3" extension
Return Policy *
Return for refund within: 30 days
Return for replacement within: 30 days
* Applies to purchases made on matcotools.com only; see your Matco distributor for warranty or return information on purchases made elsewhere.
| Part # | Product Name | Qty in Set |
| --- | --- | --- |
| BP106V | 3/8DR IMP 6PT SKT 5/16" | 1 |
| BP126V | 3/8DR IMP 6PT SKT 3/8" | 1 |
| BP146V | 3/8DR IMP 6PT SKT 7/16" | 1 |
| BP166V | 3/8DR IMP 6PT SKT 1/2" | 1 |
| BP186V | 3/8DR IMP 6PT SKT 9/16" | 1 |
| BP206V | 3/8DR IMP 6PT SKT 5/8" | 1 |
| BP226V | 3/8DR IMP 6PT SKT 11/16" | 1 |
| BP246V | 3/8DR IMP 6PT SKT 3/4" | 1 |
| BP8M6V | 3/8DR IMP 6PT SKT 8MM | 1 |
| BP9M6V | 3/8DR IMP 6PT SKT 9MM | 1 |
| BP10M6V | 3/8DR IMP 6PT SKT 10MM | 1 |
| BP11M6V | 3/8DR IMP 6PT SKT 11MM | 1 |
| BP12M6V | 3/8DR IMP 6PT SKT 12MM | 1 |
| BP13M6V | 3/8DR IMP 6PT SKT 13MM | 1 |
| BP14M6V | 3/8DR IMP 6PT SKT 14MM | 1 |
| BP15M6V | 3/8DR IMP 6PT SKT 15MM | 1 |
| BP16M6V | 3/8DR IMP 6PT SKT 16MM | 1 |
| BP17M6V | 3/8DR IMP 6PT SKT 17MM | 1 |
| BP18M6V | 3/8DR IMP 6PT SKT 18MM | 1 |
| BP19M6V | 3/8DR IMP 6PT SKT 19MM | 1 |
| BDP106V | 3/8DR DP IMP 6PT SKT 5/16" | 1 |
| BDP126V | 3/8DR DP IMP 6PT SKT 3/8" | 1 |
| BDP146V | 3/8DR DP IMP 6PT SKT 7/16" | 1 |
| BDP166V | 3/8DR DP IMP 6PT SKT 1/2" | 1 |
| BDP186V | 3/8DR DP IMP 6PT SKT 9/16" | 1 |
| BDP206V | 3/8DR DP IMP 6PT SKT 5/8" | 1 |
| BDP226V | 3/8DR DP IMP 6PT SKT 11/16" | 1 |
| BDP246V | 3/8DR DP IMP 6PT SKT 3/4" | 1 |
| BDP8M6V | 3/8DR DP IMP 6PT SKT 8MM | 1 |
| BDP9M6V | 3/8DR DP IMP 6PT SKT 9MM | 1 |
| BDP10M6V | 3/8DR DP IMP 6PT SKT 10MM | 1 |
| BDP11M6V | 3/8DR DP IMP 6PT SKT 11MM | 1 |
| BDP12M6V | 3/8DR DP IMP 6PT SKT 12MM | 1 |
| BDP13M6V | 3/8DR DP IMP 6PT SKT 13MM | 1 |
| BDP14M6V | 3/8DR DP IMP 6PT SKT 14MM | 1 |
| BDP15M6V | 3/8DR DP IMP 6PT SKT 15MM | 1 |
| BDP16M6V | 3/8DR DP IMP 6PT SKT 16MM | 1 |
| BDP17M6V | 3/8DR DP IMP 6PT SKT 17MM | 1 |
| BDP18M6V | 3/8DR DP IMP 6PT SKT 18MM | 1 |
| BDP19M6V | 3/8DR DP IMP 6PT SKT 19MM | 1 |
| BUP2BV | 3/8DR UNIV IMP ADAPTER | 1 |
| BXP3V | 3/8DR IMP EXTENSION - 3" | 1 |
3/8'' DRIVE 42 PIECE SAE & METRIC 6 POINT DEEP IMPACT SOCKET SET
60
60
has everything you need!!
this set has all you need for a 3/8" impact set. Although it could use a few more (longer) extensions to make it complete!!
March 2, 2014
This product is a must have for a daily use
This product is great, I just purchased it and use it every day . Just used it head 2 head against my co workers mac tools . we both used and compared a 13inch deep 3/8 drive socket and his socket felt like it was going 2 strip the nut. The opti-torque system really works .These sockets are easy to find because they are laser etched as well. My co worker and I were both suprised as to how well this socket performed As far as product and price this a very good socket for the money.
September 17, 2011
Great set of sockets!
This socket set is a great set. I bought mine this morning, I would recommend this set to anyone.
July 23, 2013
good product
This set is a great starting set, has mostly all the sockets you need for 3/8" drive, I do wish it would go a little bigger in sizes, other than that they are great sockets
March 8, 2013
great product
Great product for the price. Use almost every day with no problems. The only thing I would change is the swivel. Using a non-locking type swivel with an impact can cause the socket to fling off if it slips of the fastener. Replaced the swivel with a locking type to prevent this from occurring again.
September 13, 2011
great deal and a great product
I got this set for 100 bucks. Its just what i needed and i usr them everyday matco is really surprising me with there products. I highly recommend these impact sockets
November 14, 2012
Great Tool, Great Price
I Dont Use This Set Everyday But It Does Come In Handy When I Need It. Great Price For A Great Tool, Nothing Comes Close. Would Reccomend This To Anyone. As A Beginner Trying To Buy Tools You Cant Beat The Quality And Price Of This Product. Very Good Addition To Anyones Toolbox.
September 30, 2011
this is an outstanding performance purchase
this 3/8 impact socket set is great for shop or on-the go use,s and emergency use as-well please continue with this great tool pricing!
December 21, 2012
Solid set of impacts.
I bought these because I needed a little bit of everything. Just starting out at a diesel apprenticeship. Use these 80% of the time, even over the chrome.
November 12, 2012
great quality
great quality and i am really happy with the finish on these, it seems resilient and doesnt mar and scratch easily so they look good even with months of use.. very happy with these sockets..
September 18, 2012
Money and space saver
with these thin wall impact i dont need to buy chrome sockets. i started a new tool set for my house and didnt spend nearly as much as i did putting together the set i need for my job. who needs chrome sockets when you've got these adv's in you box?!
September 14, 2011
This Product is a good variation to have on hand.
I Like this tool. It has different sizes just when you need the next socket you have it right there next to the one that didn't fit. It makes it easier to be organized and fact clean-up knowing that your set is complete and you have them ready.
October 24, 2011
Adv tool sets
This set comes with the most popular sizes in standard and metric sizes....
November 27, 2012
What a great set
When we set up our newly added service truck to our fleet we bought this set for the tool box. Its better design helps prevent damage to fasterners and helps remove those with slipage damage from inferiour sockets and wrenches.
October 1, 2011
comfort
some impact sockets just dont feel right in your hands but i love these. it is the most used tools in my box the set has any socket for any job that a 3/8 drive impact tool can handle this is a great buy for quality and price
November 22, 2011
great tools for every day use!!
I purchased this set of sockets to replace another set, the sockets are very strong and they get the bolts out, even with damaged bolt head. the price is very good for the great quality. A great set in every mechanics tool box.
September 12, 2011
Nice Set
This is a my best set of impact sockets, And I have a lot of the other guy's sockets that I paid 3 times more for on the other truck we no who S-O and I go to this set every time. no slip tight fit.
November 29, 2011
Never strip a bolt again !
I own this socket set , great price and the only thing your gonna break is the bolt your trying to get loose . Very steardy and i promise it wll be the last socket set you will ever buy !!
November 14, 2011
Good set for all around use
I use this set everyday on impact wrenches and my ratchets and they are awesome. Easy to find the size I need and easy to keep organized and its nice to just throw in the truck for little jobs
September 1, 2011
wow take the abuse and the swivel works well in a binde
tec ata shop use ait tools alot and i do things to tools you not supost to like 3/8s on 1/2 adapters on a 1/2 impact and i have yout to bust the swivle or sockets and the head desgine fits bolts tight
October 9, 2011
my socket set
They work great even on worn bolts and nuts, I use mine a lot and they show very little wear. The only problem is the laser etching is wearing on them but that isn't a major concern.
September 2, 2011
These are the best sockets, and great price!
Always have trouble and worry about stripping nuts, and on an offroad race car you just can't do that. These sockets enable me to do it right and effective. Thanks Matco!
September 25, 2011
Tough
Really nice set of sockets handled everything I have thrown at them. Haven't rounded any bolts even when they are rusted and hard to come out.
December 13, 2011
great product and price
These sockets keep their size, and marking extremely well. I have had 1/2 impacts with an adapter on them, and they didnt even seem to flex.
December 8, 2011
A MUST...
Exactly as the product description states. This set hasn't let me down with everything I've thrown at them.
April 12, 2012
Great Quality
Product is perfect, comfortable to work with and do the job very nicely. set is complete with all the sockets you use most at a very good price for the quality
October 1, 2011
Awesome Product...Very durable
I've been using this product for a LONGGGGGGGGGGGGG time and i've never had any issues that you get with the cheaper brands
December 13, 2011
this product is tough
these thin wall impact sockets u cant kill them i use them on every thing on my truck that i can reach. the best product that i have found
September 28, 2011
Fantastic set for a nice price!
This is a good set and it is at a great price. Use them all the time, not to bulky but strong enough for any job.
November 30, 2011
Snap on breaks matco doesnt
I replaced my snap on set with this matco set and have never had a broken socket. Can't say the same for my snap off set!
October 18, 2011