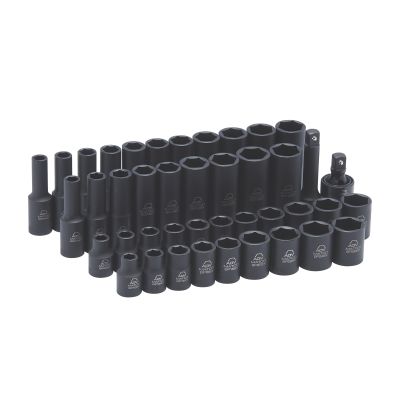 SBP426V3/8" DRIVE 42 PIECE SAE & METRIC 6 POINT DEEP IMPACT SOCKET SET
SBP426V 3/8" DRIVE 42 PIECE SAE & METRIC 6 POINT DEEP IMPACT SOCKET SET
Features & Benefits
Opti-Torque system applies torque to the fastener sides reducing corner round off
150 degree chamfer on the socket drive end for better grab, constant pressure and easier use.
High Visibility size markings quickly identify socket
Sizes include: 8mm - 19mm, 5/16" - 3/4", Universal joint, 3" Extension
Return Policy
Return for refund within: 30 days
Return for replacement within: 30 days
| Part # | Product Name | Qty in Set |
| --- | --- | --- |
| BP106V | 3/8DR IMP 6PT SKT 5/16" | 1 |
| BP126V | 3/8DR IMP 6PT SKT 3/8" | 1 |
| BP146V | 3/8DR IMP 6PT SKT 7/16" | 1 |
| BP166V | 3/8DR IMP 6PT SKT 1/2" | 1 |
| BP186V | 3/8DR IMP 6PT SKT 9/16" | 1 |
| BP206V | 3/8DR IMP 6PT SKT 5/8" | 1 |
| BP226V | 3/8DR IMP 6PT SKT 11/16" | 1 |
| BP246V | 3/8DR IMP 6PT SKT 3/4" | 1 |
| BP8M6V | 3/8DR IMP 6PT SKT 8MM | 1 |
| BP9M6V | 3/8DR IMP 6PT SKT 9MM | 1 |
| BP10M6V | 3/8DR IMP 6PT SKT 10MM | 1 |
| BP11M6V | 3/8DR IMP 6PT SKT 11MM | 1 |
| BP12M6V | 3/8DR IMP 6PT SKT 12MM | 1 |
| BP13M6V | 3/8DR IMP 6PT SKT 13MM | 1 |
| BP14M6V | 3/8DR IMP 6PT SKT 14MM | 1 |
| BP15M6V | 3/8DR IMP 6PT SKT 15MM | 1 |
| BP16M6V | 3/8DR IMP 6PT SKT 16MM | 1 |
| BP17M6V | 3/8DR IMP 6PT SKT 17MM | 1 |
| BP18M6V | 3/8DR IMP 6PT SKT 18MM | 1 |
| BP19M6V | 3/8DR IMP 6PT SKT 19MM | 1 |
| BDP106V | 3/8DR DP IMP 6PT SKT 5/16" | 1 |
| BDP126V | 3/8DR DP IMP 6PT SKT 3/8" | 1 |
| BDP146V | 3/8DR DP IMP 6PT SKT 7/16" | 1 |
| BDP166V | 3/8DR DP IMP 6PT SKT 1/2" | 1 |
| BDP186V | 3/8DR DP IMP 6PT SKT 9/16" | 1 |
| BDP206V | 3/8DR DP IMP 6PT SKT 5/8" | 1 |
| BDP226V | 3/8DR DP IMP 6PT SKT 11/16" | 1 |
| BDP246V | 3/8DR DP IMP 6PT SKT 3/4" | 1 |
| BDP8M6V | 3/8DR DP IMP 6PT SKT 8MM | 1 |
| BDP9M6V | 3/8DR DP IMP 6PT SKT 9MM | 1 |
| BDP10M6V | 3/8DR DP IMP 6PT SKT 10MM | 1 |
| BDP11M6V | 3/8DR DP IMP 6PT SKT 11MM | 1 |
| BDP12M6V | 3/8DR DP IMP 6PT SKT 12MM | 1 |
| BDP13M6V | 3/8DR DP IMP 6PT SKT 13MM | 1 |
| BDP14M6V | 3/8DR DP IMP 6PT SKT 14MM | 1 |
| BDP15M6V | 3/8DR DP IMP 6PT SKT 15MM | 1 |
| BDP16M6V | 3/8DR DP IMP 6PT SKT 16MM | 1 |
| BDP17M6V | 3/8DR DP IMP 6PT SKT 17MM | 1 |
| BDP18M6V | 3/8DR DP IMP 6PT SKT 18MM | 1 |
| BDP19M6V | 3/8DR DP IMP 6PT SKT 19MM | 1 |
| BUP2BV | 3/8DR UNIV IMP ADAPTER | 1 |
| BXP3V | 3/8DR IMP EXTENSION - 3" | 1 |
3/8'' DRIVE 42 PIECE SAE & METRIC 6 POINT DEEP IMPACT SOCKET SET
57
57
great tools at great price
these sockets have excellent grip just good all around tools at a very good price
November 28, 2011
Great Quality
Product is perfect, comfortable to work with and do the job very nicely. set is complete with all the sockets you use most at a very good price for the quality
October 1, 2011
Excellent!
Great sockets for a great price! The hard case is great quality!
December 2, 2011
A LIFE SAVER!!!!!!
This set has gotten me out of more tough spots than you can imagine. Just lean into and go the matcos aint gonna break.
October 20, 2011
great set
Best 3/8 set I have ever had stands up to me at work all day long never have had any problems with matco tool
October 27, 2011
this product is tough
these thin wall impact sockets u cant kill them i use them on every thing on my truck that i can reach. the best product that i have found
September 28, 2011
Good tool
Good impact tool set. I have this set it a good price. You will love it
November 12, 2011
This product is aesy to used
i like this product because is aesy to store and u can used it anytime and anithing
October 20, 2011
It's a better tool.
I wish my shop was filled with Matco products. Got to get me some.
October 26, 2011
Great Sockets
Purchased these sockets because I was tired of not having a size I needed. Quality is great, have not broken one yet.
September 14, 2011
great product
Easy to use and great quality I would recommend to a.yone
October 21, 2011
Can't Get A Better Deal From Any Other Tool Company
This Set Of Tools Come In Handy, Can Take It Everywhere I Go
October 13, 2011
Great
You can't beat the price on these! They perform great. Only wish they offered more sized on them.
September 14, 2011
awesome
what a great deal from matco tools, I would highly recommend this set.
October 1, 2011
great case and product
great product had almost everything i was looking for and was on special. would recomend them to anyone.
September 1, 2011
This product has great performance
This product is very strong never break love them.
September 21, 2011
these work great
i love these wrenches they're way better then craftsman
September 13, 2011
every day user
its a great set even better for the price i use it everyday
September 3, 2011
Great price great tools
Great set of tools, great price.Can't beat Matco period.
September 2, 2011