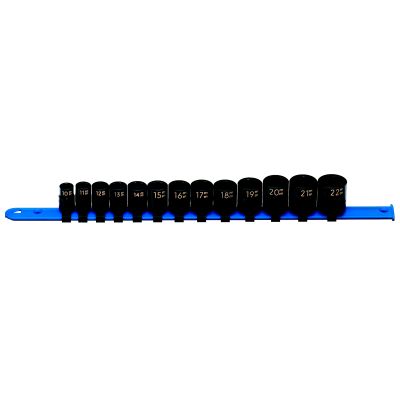 SBPM136TA3/8" DRIVE 13 PIECE METRIC 6 POINT IMPACT SOCKET SET
SBPM136TA 3/8" DRIVE 13 PIECE METRIC 6 POINT IMPACT SOCKET SET
Features & Benefits
Opti-Torque applies torque to fastener sides, not corners, allowing more torque to be applied to fastener
Counter-Torque distributes the torquing stress uniformly throughout the socket extending socket life
High-Visibility laser markings to identify socket sizes at a glance
Includes sizes: 10mm - 22mm
Color-coded socket rail features unique spring-loaded ball allowing easy socket removal and replacement
Return Policy
Return for refund within: 30 days
Return for replacement within: 30 days
| Part # | Product Name | Qty in Set |
| --- | --- | --- |
| BP10M6A | 3/8X10MM STD IMP 6PT SOCKET | 1 |
| BP11M6A | 3/8X11MM STD IMP 6PT SOCKET | 1 |
| BP12M6A | 3/8X12MM STD IMP 6PT SOCKET | 1 |
| BP13M6A | 3/8X13MM STD IMP 6PT SOCKET | 1 |
| BP14M6A | 3/8X14MM STD IMP 6PT SOCKET | 1 |
| BP15M6A | 3/8X15MM STD IMP 6PT SOCKET | 1 |
| BP16M6A | 3/8X16MM STD IMP 6PT SOCKET | 1 |
| BP17M6A | 3/8X17MM STD IMP 6PT SOCKET | 1 |
| BP18M6A | 3/8X18MM STD IMP 6PT SOCKET | 1 |
| BP19M6A | 3/8X19MM STD IMP 6PT SOCKET | 1 |
| BP20M6A | 3/8X20MM STD IMP 6PT SOCKET | 1 |
| BP21M6A | 3/8X21MM STD IMP 6PT SOCKET | 1 |
| BP22M6A | 3/8X22MM STD IMP 6PT SOCKET | 1 |
| SKTRL15M | METRIC SKT RAIL 15 IN LONG | 1 |
| SKTSTD16 | (5 PK)1/2 STUD FOR SKT RAIL | 1 |
3/8'' DRIVE 13 PIECE METRIC 6 POINT IMPACT SOCKET SET
5
5
I would recomend this product
I like this product because it makes my job as a mecahanic much easier.
December 4, 2011
very good
I use these on a daily bases. The laser markings is a nice touch. A great buy!
November 6, 2011
great set
this is a great set to have, these sockets are very strong and short enough to get into those hard to reach places, i highly recommend this set
September 16, 2011
great set
I use these all the time they are just as thin as the chrome sockets.
October 9, 2011
highlly visible sizes
i like this product because the sizes are easy to read.
October 11, 2011