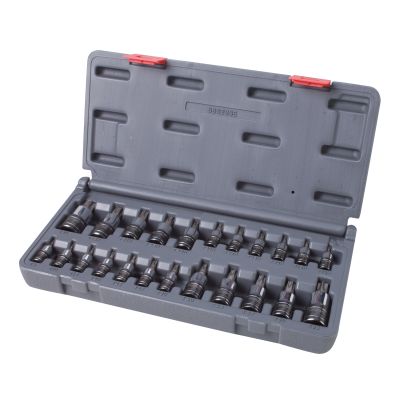 SBS23SE23 PIECE SILVER EAGLE SOCKET BIT DRIVER SET
SBS23SE 23 PIECE SILVER EAGLE SOCKET BIT DRIVER SET
Features & Benefits
A comprehensive star bit socket set which includes 1/4", 3/8" and 1/2" drive sizes without duplicated sizes.
Includes 13 star bits ranging from T8 - T60
Includes 10 tamperproof star bits ranging from T10H - T55H
Unique black chrome finish with laser etching for easy identification.
Packaged in a rugged plastic case
Return Policy
Return for refund within: 30 days
Return for replacement within: 30 days
| Part # | Product Name | Qty in Set |
| --- | --- | --- |
| SEBTP10 | 1/4 DR. TAMPERPROOF TORX T10 | 1 |
| SEBTP15 | 1/4 DR. TAMPERPROOF TORX T15 | 1 |
| SEBTP20 | 1/4 DR. TAMPERPROOF TORX T20H | 1 |
| SEBTP25 | 1/4 DR. TAMPERPROOF TORX T25H | 1 |
| SEBTP27 | 1/4 DR. TAMPERPROOF TORX T27H | 1 |
| SEBTP30 | 1/4 DR. TAMPERPROOF TORX T30H | 1 |
| SEBTP40 | 3/8 DR. TAMPERPROOF TORX T40H | 1 |
| SEBTP45 | 3/8 DR. TAMPERPROOF TORX T45H | 1 |
| SEBTP50 | 3/8 DR. TAMPERPROOF TORX T50H | 1 |
| SEBTP55 | 1/2 DR. TAMPERPROOF TORX T55 | 1 |
| SEBT8 | 1/4 IN DR TORX T8 | 1 |
| SEBT10 | 1/4 IN DR. TORX T10 | 1 |
| SEBT15 | 1/4 IN DR. TORX T15 | 1 |
| SEBT20 | 1/4 IN DR. TORX T20 | 1 |
| SEBT25 | 1/4 IN DR. TORX T25 | 1 |
| SEBT27 | 1/4 IN DR. TORX T27 | 1 |
| SEBT30 | 1/4 IN DR. TORX T30 | 1 |
| SEBT40 | 3/8 IN DR. TORX T40 | 1 |
| SEBT45 | 3/8 IN DR. TORX T45 | 1 |
| SEBT47 | 3/8 IN DR. TORX T47 | 1 |
| SEBT50 | 3/8 IN DR. TORX T50 | 1 |
| SEBT55 | 1/2 IN DR. TORX T55 | 1 |
| SEBT60 | 1/2 IN DR. TORX T60 | 1 |
23 PIECE SILVER EAGLE SOCKET BIT DRIVER SET
3
3
Another awesome product!!!
I purchased this set during a promotion period and have never doubted buying this product. I use the T25 and T30 bits on a daily basis for over a year and a half now and they have never failed under the abuse I give them. If your a Volvo mechanic like I am then you will understand that there are some situations where these bits are slightly too big. Especially when using the larger bits like the T55 and T60. It's basically impossible to use these when changing the drive belt or working on the VVT system. This is why if scored it slightly lower on the performance rating. Overall I am more then satisfied with this torx set!
September 27, 2013
Great Torx Set!
This is a great torx set! I am very happy with these and would highly recommend them!
May 9, 2013
Great Torx Kit
This kit has every torx bit you will need. Everything from the tiniest to the biggest. The case is great, it keeps everything organized and its easy to see if a socket is missing. Awesome product
January 22, 2012