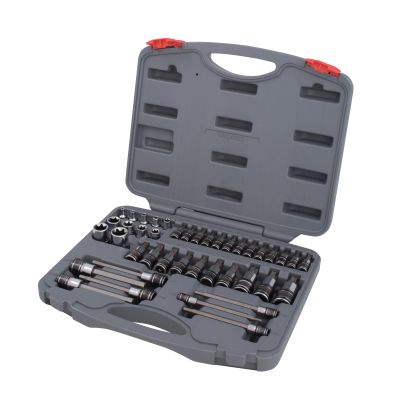 SBS41SE41 PC SILVER EAGLE SOCKET BIT DRIVER SET
SBS41SE 41 PC SILVER EAGLE SOCKET BIT DRIVER SET - Features & Benefits
Extensive assortment of socket bit drivers including 7 Hex Socket Bit Drivers, 13 Star Socket Bit Drivers, 10 Tamperproof Star Socket Bit Drivers, and 11 Recessed Star Socket Bit Drivers. Unique black chrome finish with laser etching for easy identificat
Packaged in a rugged plastic case
| Part # | Product Name | Qty in Set |
| --- | --- | --- |
| SEBT8 | 1/4 IN DR TORX T8 | 1 |
| SEBT10 | 1/4 IN DR. TORX T10 | 1 |
| SEBT15 | 1/4 IN DR. TORX T15 | 1 |
| SEBT20 | 1/4 IN DR. TORX T20 | 1 |
| SEBT25 | 1/4 IN DR. TORX T25 | 1 |
| SEBT27 | 1/4 IN DR. TORX T27 | 1 |
| SEBT30 | 1/4 IN DR. TORX T30 | 1 |
| SEBT40 | 3/8 IN DR. TORX T40 | 1 |
| SEBT45 | 3/8 IN DR. TORX T45 | 1 |
| SEBT47 | 3/8 IN DR. TORX T47 | 1 |
| SEBT50 | 3/8 IN DR. TORX T50 | 1 |
| SEBT55 | 1/2 IN DR. TORX T55 | 1 |
| SEBT60 | 1/2 IN DR. TORX T60 | 1 |
| SEBTP40 | 3/8 DR. TAMPERPROOF TORX T40H | 1 |
| SEBTP45 | 3/8 DR. TAMPERPROOF TORX T45H | 1 |
| SEBTP50 | 3/8 DR. TAMPERPROOF TORX T50H | 1 |
| SEBTP55 | 1/2 DR. TAMPERPROOF TORX T55 | 1 |
| SEBTP10 | 1/4 DR. TAMPERPROOF TORX T10 | 1 |
| SEBTP15 | 1/4 DR. TAMPERPROOF TORX T15 | 1 |
| SEBTP20 | 1/4 DR. TAMPERPROOF TORX T20H | 1 |
| SEBTP25 | 1/4 DR. TAMPERPROOF TORX T25H | 1 |
| SEBTP27 | 1/4 DR. TAMPERPROOF TORX T27H | 1 |
| SEBTP30 | 1/4 DR. TAMPERPROOF TORX T30H | 1 |
| SEBX4 | 1/4 IN DR 1/8 IN XL BIT SKT | 1 |
| SEBX5 | 1/4 DR. 5/32 XL HEX BIT SKT | 1 |
| SEBX6 | 1/4 DR. 3/16 XL HEX BIT SKT | 1 |
| SEBX7 | 3/8 DR. 7/32 XL HEX BIT SKT | 1 |
| SEBX8 | 3/8 DR. 1/4 IN XL HEX BIT SKT | 1 |
| SEBX10 | 3/8 DR. 5/16 XL HEX BIT SKT | 1 |
| SEBX12 | 3/8 DR. 3/8 IN XL HEX BIT SKT | 1 |
| SEBRE4 | 1/4 IN DR. E4 RECESSED TORX | 1 |
| SEBRE5 | 1/4 IN DR. E5 RECESSED TORX | 1 |
| SEBRE6 | 1/4 IN DR. E6 RECESSED TORX | 1 |
| SEBRE7 | 1/4 IN DR. E7 RECESSED TORX | 1 |
| SEBRE8 | 1/4 IN DR. E8 RECESSED TORX | 1 |
| SEBRE10 | 3/8 IN DR. E10 RECESSED TORX | 1 |
| SEBRE12 | 3/8 IN DR. E12 RECESSED TORX | 1 |
| SEBRE14 | 3/8 IN DR E14 RECESSED TORX | 1 |
| SEBRE16 | 3/8 IN DR E16 RECESSED TORX | 1 |
| SEBRE18 | 1/2 IN DR E18 RECESSED TORX | 1 |
| SEBRE20 | 1/2 IN DR. E20 RECESSED TORX | 1 |
41 PC SILVER EAGLE SOCKET BIT DRIVER SET
12
12
good torx set
has torx, tamper proof torx, and a few long hex sockets. nice set and works well
February 5, 2013
Wide variety,and great quality
This set is a great choice, especially the e20 socket for some fords and caliper bracket bolts. Great quality product that i use weekly.
October 14, 2012
Good purchase
Good purchase for the money. got what I wanted. There are other great options of torx bit sets from Silver eagle and Matco as well.
September 24, 2012
Must have kit
Has multiple size Allen's and torx and inverted torx for many different vehicles and I use it on every vehicle I work on.
December 18, 2011
AWESOME!!
This set is amazing! Well Worth every penny. Got more pieces for less than straight up Matco brand but has the same Matco warranty. Great set!
December 6, 2011
THIS IS A GREAT TOOL SET, IT HAS MOST SIZES ALL IN A GREAT BOX
THIS SET COMES VERY HANDY WHEN WORKING ON CARS THAT HAVE ALLEN AND TORKX BOLTS, IT WOULD BE A GREAT SET IF IT COULD INCLUDE A SET OF METRIC SIZES. IT IS A MUST TO HAVE IN YOUR TOOL BOX!!!
November 13, 2011
great buy
good kit to have, one of my favorites, it pretty much has everything you need in one kit. I just wish the hex sockets were shorter and not the extra long ones. they do make the same kit that comes with shorter hex's but they're metric and i needed standard. Either way they are both great kits, especially for starting off with
September 13, 2011
good assortment for any mechanic
bits are strong and well made box is sturdy the handle is very useful for quick jobs
November 27, 2011