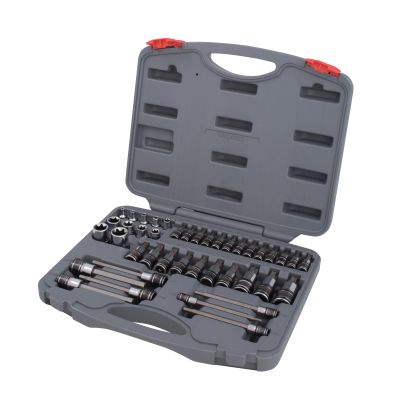 SBS41SE41 PC SILVER EAGLE SOCKET BIT DRIVER SET
SBS41SE 41 PC SILVER EAGLE SOCKET BIT DRIVER SET - Features & Benefits
Extensive assortment of socket bit drivers including 7 Hex Socket Bit Drivers, 13 Star Socket Bit Drivers, 10 Tamperproof Star Socket Bit Drivers, and 11 Recessed Star Socket Bit Drivers. Unique black chrome finish with laser etching for easy identificat
Packaged in a rugged plastic case
| Part # | Product Name | Qty in Set |
| --- | --- | --- |
| SEBT8 | 1/4 IN DR TORX T8 | 1 |
| SEBT10 | 1/4 IN DR. TORX T10 | 1 |
| SEBT15 | 1/4 IN DR. TORX T15 | 1 |
| SEBT20 | 1/4 IN DR. TORX T20 | 1 |
| SEBT25 | 1/4 IN DR. TORX T25 | 1 |
| SEBT27 | 1/4 IN DR. TORX T27 | 1 |
| SEBT30 | 1/4 IN DR. TORX T30 | 1 |
| SEBT40 | 3/8 IN DR. TORX T40 | 1 |
| SEBT45 | 3/8 IN DR. TORX T45 | 1 |
| SEBT47 | 3/8 IN DR. TORX T47 | 1 |
| SEBT50 | 3/8 IN DR. TORX T50 | 1 |
| SEBT55 | 1/2 IN DR. TORX T55 | 1 |
| SEBT60 | 1/2 IN DR. TORX T60 | 1 |
| SEBTP40 | 3/8 DR. TAMPERPROOF TORX T40H | 1 |
| SEBTP45 | 3/8 DR. TAMPERPROOF TORX T45H | 1 |
| SEBTP50 | 3/8 DR. TAMPERPROOF TORX T50H | 1 |
| SEBTP55 | 1/2 DR. TAMPERPROOF TORX T55 | 1 |
| SEBTP10 | 1/4 DR. TAMPERPROOF TORX T10 | 1 |
| SEBTP15 | 1/4 DR. TAMPERPROOF TORX T15 | 1 |
| SEBTP20 | 1/4 DR. TAMPERPROOF TORX T20H | 1 |
| SEBTP25 | 1/4 DR. TAMPERPROOF TORX T25H | 1 |
| SEBTP27 | 1/4 DR. TAMPERPROOF TORX T27H | 1 |
| SEBTP30 | 1/4 DR. TAMPERPROOF TORX T30H | 1 |
| SEBX4 | 1/4 IN DR 1/8 IN XL BIT SKT | 1 |
| SEBX5 | 1/4 DR. 5/32 XL HEX BIT SKT | 1 |
| SEBX6 | 1/4 DR. 3/16 XL HEX BIT SKT | 1 |
| SEBX7 | 3/8 DR. 7/32 XL HEX BIT SKT | 1 |
| SEBX8 | 3/8 DR. 1/4 IN XL HEX BIT SKT | 1 |
| SEBX10 | 3/8 DR. 5/16 XL HEX BIT SKT | 1 |
| SEBX12 | 3/8 DR. 3/8 IN XL HEX BIT SKT | 1 |
| SEBRE4 | 1/4 IN DR. E4 RECESSED TORX | 1 |
| SEBRE5 | 1/4 IN DR. E5 RECESSED TORX | 1 |
| SEBRE6 | 1/4 IN DR. E6 RECESSED TORX | 1 |
| SEBRE7 | 1/4 IN DR. E7 RECESSED TORX | 1 |
| SEBRE8 | 1/4 IN DR. E8 RECESSED TORX | 1 |
| SEBRE10 | 3/8 IN DR. E10 RECESSED TORX | 1 |
| SEBRE12 | 3/8 IN DR. E12 RECESSED TORX | 1 |
| SEBRE14 | 3/8 IN DR E14 RECESSED TORX | 1 |
| SEBRE16 | 3/8 IN DR E16 RECESSED TORX | 1 |
| SEBRE18 | 1/2 IN DR E18 RECESSED TORX | 1 |
| SEBRE20 | 1/2 IN DR. E20 RECESSED TORX | 1 |
41 PC SILVER EAGLE SOCKET BIT DRIVER SET
12
12
cant beat the price for what you get
the price you pay for this kit is well worth it i priced out snap-on and was glad i went with matco i got more for my money and a pretty good tool they do break sometimes but when the tool truck comes along i get a new one no questions asked.
October 19, 2011
GOOD SET
Well all the torx you will ever need in one box.I have used the large half inch drive sockets with my IR titanium impact (yea i know they are not impact sockets), and it never even twisted the the bit. A must have.
October 28, 2011
must have set
i use this set every day and its one of the most versatile sets i own because of the wide variety of torx and allen sockets. a must have set for any proffessional.
October 14, 2011
Ideal kit!
This case fits great in your tool box, and the lid comes off very easily. These are great quality, very strong and reliable. Good torx bits are absolutely necessary!
September 24, 2011