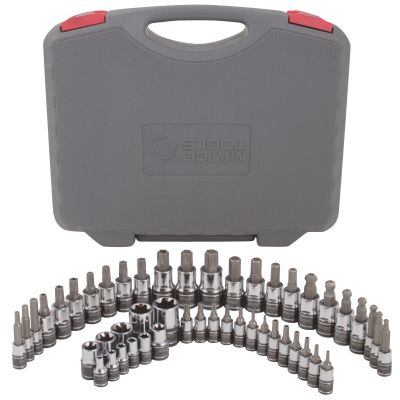 SBS48SE48 PIECE SILVER EAGLE SOCKET BIT DRIVER SET
SBS48SE 48 PIECE SILVER EAGLE SOCKET BIT DRIVER SET
Features & Benefits
Offers a wide range of star bit sockets, tamperproof star bit sockets, recessed star bit sockets and ball hex bit sockets
Bits are made from industrial strength S2 steel
Unique black chrome finish with laser etching for easy identification
Packaged in a rugged plastic case
Return Policy
Return for refund within: 30 days
Return for replacement within: 30 days
| Part # | Product Name | Qty in Set |
| --- | --- | --- |
| SEBT8 | 1/4 IN DR TORX T8 | 1 |
| SEBT10 | 1/4 IN DR. TORX T10 | 1 |
| SEBT15 | 1/4 IN DR. TORX T15 | 1 |
| SEBT20 | 1/4 IN DR. TORX T20 | 1 |
| SEBT25 | 1/4 IN DR. TORX T25 | 1 |
| SEBT27 | 1/4 IN DR. TORX T27 | 1 |
| SEBT30 | 1/4 IN DR. TORX T30 | 1 |
| SEBT40 | 3/8 IN DR. TORX T40 | 1 |
| SEBT45 | 3/8 IN DR. TORX T45 | 1 |
| SEBT47 | 3/8 IN DR. TORX T47 | 1 |
| SEBT50 | 3/8 IN DR. TORX T50 | 1 |
| SEBT55 | 1/2 IN DR. TORX T55 | 1 |
| SEBT60 | 1/2 IN DR. TORX T60 | 1 |
| SEBTP10 | 1/4 DR. TAMPERPROOF TORX T10 | 1 |
| SEBTP15 | 1/4 DR. TAMPERPROOF TORX T15 | 1 |
| SEBTP20 | 1/4 DR. TAMPERPROOF TORX T20H | 1 |
| SEBTP25 | 1/4 DR. TAMPERPROOF TORX T25H | 1 |
| SEBTP27 | 1/4 DR. TAMPERPROOF TORX T27H | 1 |
| SEBTP30 | 1/4 DR. TAMPERPROOF TORX T30H | 1 |
| SEBTP40 | 3/8 DR. TAMPERPROOF TORX T40H | 1 |
| SEBTP45 | 3/8 DR. TAMPERPROOF TORX T45H | 1 |
| SEBTP50 | 3/8 DR. TAMPERPROOF TORX T50H | 1 |
| SEBTP55 | 1/2 DR. TAMPERPROOF TORX T55 | 1 |
| SEBRE4 | 1/4 IN DR. E4 RECESSED TORX | 1 |
| SEBRE5 | 1/4 IN DR. E5 RECESSED TORX | 1 |
| SEBRE6 | 1/4 IN DR. E6 RECESSED TORX | 1 |
| SEBRE7 | 1/4 IN DR. E7 RECESSED TORX | 1 |
| SEBRE8 | 1/4 IN DR. E8 RECESSED TORX | 1 |
| SEBRE10 | 3/8 IN DR. E10 RECESSED TORX | 1 |
| SEBRE12 | 3/8 IN DR. E12 RECESSED TORX | 1 |
| SEBRE14 | 3/8 IN DR E14 RECESSED TORX | 1 |
| SEBRE16 | 3/8 IN DR E16 RECESSED TORX | 1 |
| SEBRE18 | 1/2 IN DR E18 RECESSED TORX | 1 |
| SEBRE20 | 1/2 IN DR. E20 RECESSED TORX | 1 |
| SEBXS4M | 1/4 IN DR 4 MM HEX BIT DRIVER | 1 |
| SEBXS5M | 1/4 IN DR 5 MM HEX BIT DRIVER | 1 |
| SEBXS6M | 1/4 IN DR 6 MM HEX BIT DRIVER | 1 |
| SEBXS7M | 3/8 IN DR 7 MM HEX BIT DRIVER | 1 |
| SEBXS8M | 3/8 IN DR 8 MM HEX BIT DRIVER | 1 |
| SEBXS9M | 3/8 IN DR 9 MM HEX BIT DRIVER | 1 |
| SEBXS10M | 3/8 IN DR 10 MM HEX BIT DRIVER | 1 |
| SEBBXS4M | 1/4 IN DR 4MM BALL HEX BIT DR | 1 |
| SEBBXS5M | 1/4 IN DR 5MM BALL HEX BIT DR | 1 |
| SEBBXS6M | 1/4 IN DR 6MM BALL HEX BIT DR | 1 |
| SEBBXS7M | 3/8 IN DR 7MM BALL HEX BIT DR | 1 |
| SEBBXS8M | 3/8 IN DR 8MM BALL HEX BIT DR | 1 |
| SEBBXS9M | 3/8 IN DR 9MM BALL HEX BIT DR | 1 |
| SEBBXS10M | 3/8 IN DR 10MM BALL HEX BIT DR | 1 |
48 PIECE SILVER EAGLE SOCKET BIT DRIVER SET
13
13
junk
i bought these and in the box there was a rusted one...ive bent or twisted like 50 of them and they are junk...bought a set of snap on and the handle up to as much a impact gun
December 16, 2013
weak materials
i bought this kit about 3 years ago and been using it daily for the past 2 years and ive probably had to replace T10-t40 bits almost 4-5 times each already to the point where i couldnt wait for replacements and bought me a kit from a different company. if your working on european cars which i am these bits wont hold up long
December 2, 2013
I use it everyday
I use ithis tool everyday at work. Comes with a case.
November 30, 2013
Great but...
Its a great toolset but mine are rusting pretty bad I use them outside and they get wet sometimes. I always try to wipe them but over the year they started to rust.
December 11, 2012
it has all the standered and metric sizes for a stsrting tech.
This set is a great set for your money as with all Matco sockets they carry a life time warranty, they perform as good as a more expensive set.
January 13, 2013
Absolute perfection.
I ordered the aforementioned product a few weeks ago out of necessity (I'm an automotive student at a local college), and it has done me nothing but good thus far. One can tell by looking that the pieces in this kit are of the best quality, and it has every piece I could possibly need. I will likely still have this same kit twenty years from now, if not much longere.
December 1, 2012
must have
this set is a must have!! i work at a ford dealership and i deal with lots of star and hex, this kit gets me threw my work day giving me all the tools i need
September 16, 2011
Great set!
This is a great set to have! Pros: Never needed a larger or smaller Torx bit. Nice selection of allen sockets as well Cons: Occasionally i've needed a longer Torx bit due to sockets not fitting into hole. Wish they made a set that was like SBS46SE but included the Torx set out of this kit, that would be a "perfect" set!
November 25, 2011