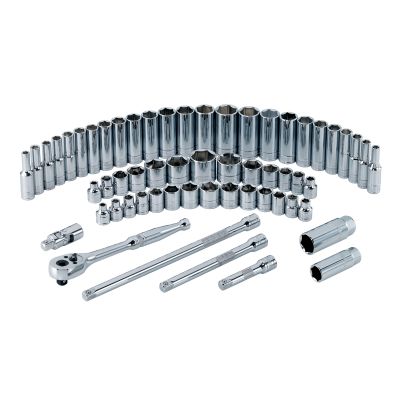 SBSE59P3/8" DRIVE SILVER EAGLE GENERAL SERVICE SET
SBSE59P 3/8" DRIVE SILVER EAGLE GENERAL SERVICE SET
Features & Benefits
59 piece set offers a wide range of 6 point SAE and Metric sockets
Metric sizes range from 6mm to 19mm
SAE sizes range from 1/4" to 1"
Standard length and deep sockets
Includes 5/8" & 13/16" spark plug sockets
Also includes ratchet, 3 extensions, and a universal joint
All items are covered with a lifetime warranty
Packaged in a rugged plastic case
Return Policy
Return for refund within: 30 days
Return for replacement within: 30 days
| Part # | Product Name | Qty in Set |
| --- | --- | --- |
| BDSE86 | 3/8 IN DR 1/4 IN DP SIL EAG S | 1 |
| BDSE106 | 3/8 IN DR 5/16 IN DP SIL EAG | 1 |
| BDSE126 | 3/8 IN DR 3/8 IN DP SIL EAG S | 1 |
| BDSE146 | 3/8 IN DR 7/16 IN DP SIL EAG | 1 |
| BDSE166 | 3/8 IN DR 1/2 IN DP SIL EAG S | 1 |
| BDSE186 | 3/8 IN DR 9/16 IN DP SIL EAG | 1 |
| BDSE206 | 3/8 IN DR 5/8 IN DP SIL EAG S | 1 |
| BDSE226 | 3/8 IN DR 11/16 IN DP SIL EAG | 1 |
| BDSE246 | 3/8 IN DR 3/4 IN DP SIL EAG SK | 1 |
| BDSE266 | 3/8 IN DR 13/16 IN DP SIL EAG | 1 |
| BDSE286 | 3/8 IN DR 7/8 IN DP SIL EAG S | 1 |
| BDSE6M6 | 3/8 IN DR 6 MM DP SIL EAG SKT | 1 |
| BDSE7M6 | 3/8 IN DR 7 MM DP SIL EAG SKT | 1 |
| BDSE8M6 | 3/8 IN DR 8 MM DP SIL EAG SKT | 1 |
| BDSE9M6 | 3/8 IN DR 9 MM DP SIL EAG SKT | 1 |
| BDSE10M6 | 3/8 IN DR 10 MM DP SIL EAG SK | 1 |
| BDSE11M6 | 3/8 IN DR 11 MM DP SIL EAG SK | 1 |
| BDSE12M6 | 3/8 IN DR 12 MM DP SIL EAG SK | 1 |
| BDSE13M6 | 3/8 IN DR 13 MM DP SIL EAG SK | 1 |
| BDSE14M6 | 3/8 IN DR 14 MM DP SIL EAG SK | 1 |
| BDSE15M6 | 3/8 IN DR 15 MM DP SIL EAG SK | 1 |
| BDSE16M6 | 3/8 IN DR 16 MM DP SIL EAG SK | 1 |
| BDSE17M6 | 3/8 IN DR 17 MM DP SIL EAG SK | 1 |
| BDSE18M6 | 3/8 IN DR 18 MM DP SIL EAG SK | 1 |
| BDSE19M6 | 3/8 IN DR 19 MM DP SIL EAG SK | 1 |
| BSE86 | 3/8 IN DR 1/4 IN SIL EAG SKT | 1 |
| BSE106 | 3/8 IN DR 5/16 IN SIL EAG SKT | 1 |
| BSE126 | 3/8 IN DR 3/8 IN SIL EAG SKT | 1 |
| BSE146 | 3/8 IN DR 7/16 IN SIL EAG SKT | 1 |
| BSE166 | 3/8 IN DR 1/2 IN SIL EAG SKT | 1 |
| BSE186 | 3/8 IN DR 9/16 IN SIL EAG SKT | 1 |
| BSE206 | 3/8 IN DR 5/8 IN SIL EAG SKT | 1 |
| BSE226 | 3/8 IN DR 11/16 IN SIL EAG SK | 1 |
| BSE286 | 3/8 IN DR 7/8 IN SIL EAG SKT | 1 |
| BSE306 | 3/8 IN DR 15/16 IN SIL EAG SK | 1 |
| BSE326 | 3/8 IN DR 1 IN SIL EAG SKT | 1 |
| BSE6M6 | 3/8 IN DR 6 MM SIL EAG SKT | 1 |
| BSE7M6 | 3/8 IN DR 7 MM SIL EAG SKT | 1 |
| BSE8M6 | 3/8 IN DR 8 MM SIL EAG SKT | 1 |
| BSE9M6 | 3/8 IN DR 9 MM SIL EAG SKT | 1 |
| BSE10M6 | 3/8 IN DR 10 MM SIL EAG SKT | 1 |
| BSE11M6 | 3/8 IN DR 11 MM SIL EAG SKT | 1 |
| BSE12M6 | 3/8 IN DR 12 MM SIL EAG SKT | 1 |
| BSE13M6 | 3/8 IN DR 13 MM SIL EAG SKT | 1 |
| BSE14M6 | 3/8 IN DR 14 MM SIL EAG SKT | 1 |
| BSE15M6 | 3/8 IN DR 15 MM SIL EAG SKT | 1 |
| BSE16M6 | 3/8 IN DR 16 MM SIL EAG SKT | 1 |
| BSE17M6 | 3/8 IN DR 17 MM SIL EAG SKT | 1 |
| BSE18M6 | 3/8 IN DR 18 MM SIL EAG SKT | 1 |
| BSE19M6 | 3/8 IN DR 19 MM SIL EAG SKT | 1 |
| BSE206P | 5/8" SE SPARK PLUG - 3/8 DRIVE | 1 |
| BSE266P | 13/16 SE SPARK PLUG SOCKET | 1 |
| BXSE10K | 3/8 IN DR SILVER EAG 10 IN EX | 1 |
| BXSE3K | 3/8 IN DR SILVER EAG 3 IN EXT | 1 |
| BXSE6K | 3/8 IN DR SILVER EAG 6 IN EXT | 1 |
| BUSE | 3/8 IN UNIVERSAL JOINT | 1 |
| BRSE8T | 3/8 IN DR SE RATCHET | 1 |
| SBSE59PBMC | BLOW MOLD CASE FOR SBSE59P | 1 |
3/8'' DRIVE SILVER EAGLE GENERAL SERVICE SET
2
2
Great Set
Comes in a decent quality molded plastic carry case. Great range of SAE and metric shallow and deep sockets. Has a quick release ratchet included, but I use the 88 tooth I got as a bonus instead.
March 2, 2013
Great set for the house!
This set is great! I'm constantly taking it back and forth of work and home!! Thinking about buying another identical set! The only downfall is the ratchet is a little iffy, but overall very satisfied!!
October 11, 2012