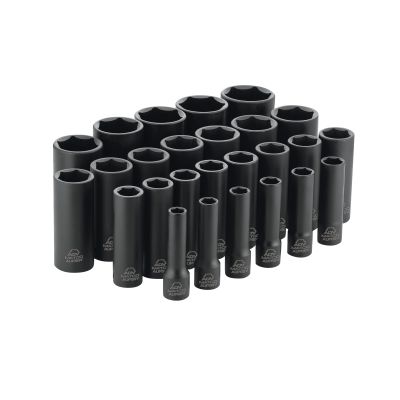 SCDPM266V1/2" DRIVE 26 PIECE METRIC 6 POINT DEEP IMPACT SOCKET SET
SCDPM266V 1/2" DRIVE 26 PIECE METRIC 6 POINT DEEP IMPACT SOCKET SET
Features & Benefits
Opti-Torque system applies torque to the fastener sides reducing corner round off
150 degree chamfer on the socket drive end for better grab, constant pressure and easier use.
High visibility size markings quickly identify socket
Includes sizes: 10mm - 30mm, 32mm - 36mm
Return Policy
Return for refund within: 30 days
Return for replacement within: 30 days
| Part # | Product Name | Qty in Set |
| --- | --- | --- |
| CDP10M6V | 1/2DR DP IMP 6PT SKT 10MM | 1 |
| CDP11M6V | 1/2DR DP IMP 6PT SKT 11MM | 1 |
| CDP12M6V | 1/2DR DP IMP 6PT SKT 12MM | 1 |
| CDP13M6V | 1/2DR DP IMP 6PT SKT 13MM | 1 |
| CDP14M6V | 1/2DR DP IMP 6PT SKT 14MM | 1 |
| CDP15M6V | 1/2DR DP IMP 6PT SKT 15MM | 1 |
| CDP16M6V | 1/2DR DP IMP 6PT SKT 16MM | 1 |
| CDP17M6V | 1/2DR DP IMP 6PT SKT 17MM | 1 |
| CDP18M6V | 1/2DR DP IMP 6PT SKT 18MM | 1 |
| CDP19M6V | 1/2DR DP IMP 6PT SKT 19MM | 1 |
| CDP20M6V | 1/2" DR DP IMP 6 PT SKT 20MM | 1 |
| CDP21M6V | 1/2DR DP IMP 6PT SKT 21MM | 1 |
| CDP22M6V | 1/2DR DP IMP 6PT SKT 22MM | 1 |
| CDP23M6V | 1/2DR DP IMP 6PT SKT 23MM | 1 |
| CDP24M6V | 1/2DR DP IMP 6PT SKT 24MM | 1 |
| CDP25M6V | 1/2DR DP IMP 6PT SKT 25MM | 1 |
| CDP26M6V | 1/2DR DP IMP 6PT SKT 26MM | 1 |
| CDP27M6V | 1/2DR DP IMP 6PT SKT 27MM | 1 |
| CDP28M6V | 1/2DR DP IMP 6PT SKT 28MM | 1 |
| CDP29M6V | 1/2DR DP IMP 6PT SKT 29MM | 1 |
| CDP30M6V | 1/2DR DP IMP 6PT SKT 30MM | 1 |
| CDP32M6V | 1/2DR DP IMP 6PT SKT 32MM | 1 |
| CDP33M6V | 1/2DR DP IMP 6PT SKT 33MM | 1 |
| CDP34M6V | 1/2DR DP IMP 6PT SKT 34MM | 1 |
| CDP35M6V | 1/2DR DP IMP 6PT SKT 35MM | 1 |
| CDP36M6V | 1/2DR DP IMP 6PT SKT 36MM | 1 |
1/2'' DRIVE 26 PIECE METRIC 6 POINT DEEP IMPACT SOCKET SET
6
6
bang for the buck.
This set has a all the sockets you need for the cost. 31mm is missing but not needed for most applications. These are a little thick and heavy similar to sears brands. Nice case included.
March 12, 2014
awesome set of impacts
Best set of impacts I have used yet. Also very clearly marked and I have not had a problem with them yet and I use them everyday. They also come with a very handy case.
January 15, 2014
Excellant product
I use the sockets weekly. They are easy to read. The set included most of the sizes that I needed.
April 11, 2013
great sockets.
Iam a ford diesel tech and these sockets are perfect. All the sizes I need are in this set. There very easy to spot because of there marking on the socket it self. Very pleased with this set
November 10, 2012
Great Set
Truly a great assortment of deep well sockets. Nice plastic molded case to keep em organized too.
December 29, 2011
everything is good quality
i had purchased the smaller set until i saw this set. i love the new set. it has every socket that you would need for just the straight deep impact sockets. i told other techs about this set as well
October 2, 2011