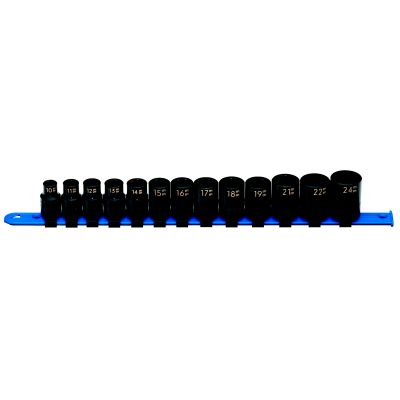 SCPM136TA1/2" DRIVE 13 PIECE METRIC 6 POINT IMPACT SOCKET SET
SCPM136TA 1/2" DRIVE 13 PIECE METRIC 6 POINT IMPACT SOCKET SET
Features & Benefits
High visibility laser marking helps technicians identify sockets quickly.
High strength alloy
Opti-Torque applies torque to fastener sides not corners - allowing more torque to be applied to fastener
Includes sizes: 10mm - 19mm, 21mm, 22mm, 24mm
Return Policy
Return for refund within: 30 days
Return for replacement within: 30 days
| Part # | Product Name | Qty in Set |
| --- | --- | --- |
| CP10M6A | 1/2X10MM STD IMP 6PT SKT | 1 |
| CP11M6A | 1/2X11MM STD IMP 6PT SKT | 1 |
| CP12M6A | 1/2X12MM STD IMP 6PT SKT | 1 |
| CP13M6A | 1/2X13MM STD IMP 6PT SKT | 1 |
| CP14M6A | 1/2X14MM STD IMP 6PT SKT | 1 |
| CP15M6A | 1/2X15MM STD IMP 6PT SKT | 1 |
| CP16M6A | 1/2X16MM STD IMP 6PT SKT | 1 |
| CP17M6A | 1/2X17MM STD IMP 6PT SKT | 1 |
| CP18M6A | 1/2X18MM STD IMP 6PT SKT | 1 |
| CP19M6A | 1/2X19MM STD IMP 6PT SKT | 1 |
| CP21M6A | 1/2X21MM STD IMP 6PT SKT | 1 |
| CP22M6A | 1/2X22MM STD IMP 6PT SKT | 1 |
| CP24M6A | 1/2X24MM STD IMP 6PT SKT | 1 |
| SKTRL15M | METRIC SKT RAIL 15 IN LONG | 1 |
| SKTSTD16 | (5 PK)1/2 STUD FOR SKT RAIL | 1 |
1/2'' DRIVE 13 PIECE METRIC 6 POINT IMPACT SOCKET SET
5
5
Excellent product. Top class quality!
Excellent craftmanship and the rail keeps everything organized.
December 18, 2011
just as good as snap on
i was borrowing a set of snap on impact sockets until i talked to all the tool trucks and matco had best deal and gave me me couple extra larger sockets
October 17, 2011
great set
I use this set all the time I do find the smaller sizes to be useless though.
October 9, 2011
highlly visible sizes
i like that the sockets are easy to read and are in big font.
October 11, 2011
very nice set
this is a great set to buy, it has all the sizes needed and these sockets are very durable
September 16, 2011