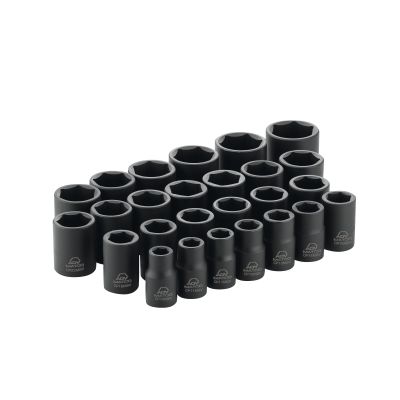 SCPM266V1/2" DRIVE 26 PIECE METRIC 6 POINT IMPACT SOCKET SET
SCPM266V 1/2" DRIVE 26 PIECE METRIC 6 POINT IMPACT SOCKET SET - Features & Benefits
Opti-Torque system applies torque to the fastener sides reducing corner round off
150 degree chamfer on the socket drive end for better grab, constant pressure and easier use
High-visibility size markings quickly identify socket
Includes sizes: 10mm - 30mm, 32mm - 36mm
| Part # | Product Name | Qty in Set |
| --- | --- | --- |
| CP10M6V | 1/2DR IMP 6PT SKT 10MM | 1 |
| CP11M6V | 1/2DR IMP 6PT SKT 11MM | 1 |
| CP12M6V | 1/2DR IMP 6PT SKT 12MM | 1 |
| CP13M6V | 1/2DR IMP 6PT SKT 13MM | 1 |
| CP14M6V | 1/2DR IMP 6PT SKT 14MM | 1 |
| CP15M6V | 1/2DR IMP 6PT SKT 15MM | 1 |
| CP16M6V | 1/2DR IMP 6PT SKT 16MM | 1 |
| CP17M6V | 1/2DR IMP 6PT SKT 17MM | 1 |
| CP18M6V | 1/2DR IMP 6PT SKT 18MM | 1 |
| CP19M6V | 1/2DR IMP 6PT SKT 19MM | 1 |
| CP20M6V | 1/2DR IMP 6PT SKT 20MM | 1 |
| CP21M6V | 1/2DR IMP 6PT SKT 21MM | 1 |
| CP22M6V | 1/2DR IMP 6PT SKT 22MM | 1 |
| CP23M6V | 1/2DR IMP 6PT SKT 23MM | 1 |
| CP24M6V | 1/2DR IMP 6PT SKT 24MM | 1 |
| CP25M6V | 1/2DR IMP 6PT SKT 25MM | 1 |
| CP26M6V | 1/2DR IMP 6PT SKT 26MM | 1 |
| CP27M6V | 1/2DR IMP 6PT SKT 27MM | 1 |
| CP28M6V | 1/2DR IMP 6PT SKT 28MM | 1 |
| CP29M6V | 1/2DR IMP 6PT SKT 29MM | 1 |
| CP30M6V | 1/2DR IMP 6PT SKT 30MM | 1 |
| CP33M6V | 1/2DR IMP 6PT SKT 33MM | 1 |
| CP34M6V | 1/2DR IMP 6PT SKT 34MM | 1 |
| CP35M6V | 1/2DR IMP 6PT SKT 35MM | 1 |
| CP36M6V | 1/2DR IMP 6PT SKT 36MM | 1 |
| CP32M6V | 1/2DR IMP 6PT SKT 32MM | 1 |
1/2'' DRIVE 26 PIECE METRIC 6 POINT IMPACT SOCKET SET
5
5
Great set and awesome price point
This set has all of the sizes you could need at a fraction of the usual cost for good sockets. Just recieved mine a week ago and have been putting them to work since. The opti torque is great on rusted bolts that may strip. Much better than the old worn out set I was using. Would definitely recommend to anyone looking to have a good set
February 17, 2013
why buy anything else!
less expensive than craftsman, pittsburg, cornwell, snap-on, and are better designed. lifetime waranty, laser etched as well as enscribed number size, opti-torque feature, and are also thin wall for use in tight to get areas. comes in nice plastic carrying box. Matco!
December 30, 2012
Exellent Huge Set
I am a full time Student and a full time Mechanic I use these sockets every day I discarded the case and put them on rails to save spave but other then that this set is perfect goes all the way up to 36 a big deal for me sense i do alot of front end work most other places i would have had to buy to sets just to get what i need I have not rounded out any nuts or bolts with these only other thing i had to purchase to complete the set was an inpcat ball joint swivel but for the price I am extreamly happy
March 21, 2012
This is a great product!!!
Very useful set, great price! Two other mechanics from my shop order the same set because they try my set! And this set include all sizes you need!!!
May 17, 2012
the new ADV technology is great
great product for the money. gives you most sizes to get the job done and saves you money on having to buy an axle nut set. the ADV technology seems to give sockets a tighter fit and avoid rounding bolts.
September 14, 2011