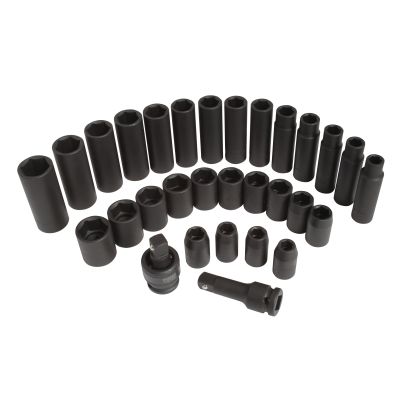 SCPMSE306P1/2 IN DRIVE 30 PC METRIC SILVER EAGLE IMPACT SOCKET SET
SCPMSE306P 1/2 IN DRIVE 30 PC METRIC SILVER EAGLE IMPACT SOCKET SET
Features & Benefits
Durable long lasting impact sockets made from Chrome-Moly steel.
A wide range of metric sizes and lengths covering most automotive needs.
Standard Impact Sockets include 10mm-22mm and 24mm; Deep Impact Sockets include 10mm - 22mm and 24 mm; Universal impact joint, and 3" impact extension.
Packaged in a rugged plastic case
Return Policy
Return for refund within: 30 days
Return for replacement within: 30 days
| Part # | Product Name | Qty in Set |
| --- | --- | --- |
| CDP10M6SE | 1/2 IN DR 10 MM SE IMP SKT | 1 |
| CDP11M6SE | 1/2 IN DR 11 MM SE IMP SKT | 1 |
| CDP12M6SE | 1/2 IN DR 12 MM SE IMP SKT | 1 |
| CDP13M6SE | 1/2 IN DR 13 MM SE IMP SKT | 1 |
| CDP14M6SE | 1/2 IN DR 14 MM SE IMP SKT | 1 |
| CDP15M6SE | 1/2 IN DR 15 MM SE IMP SKT | 1 |
| CDP16M6SE | 1/2 IN DR 16 MM SE IMP SKT | 1 |
| CDP17M6SE | 1/2 IN DR 17 MM SE IMP SKT | 1 |
| CDP18M6SE | 1/2 IN DR 18 MM SE IMP SKT | 1 |
| CDP19M6SE | 1/2 IN DR 19 MM SE IMP SKT | 1 |
| CDP20M6SE | 1/2 IN DR 20 MM DP SE IMP SKT | 1 |
| CDP21M6SE | 1/2 IN DR 21 MM SE IMP SKT | 1 |
| CDP22M6SE | 1/2 IN DR 22 MM SE IMP SKT | 1 |
| CDP24M6SE | 1/2 IN DR 24 MM DP SE IMP SKT | 1 |
| CP10M6SE | 1/2 IN DR 10 MM SE IMPACT SKT | 1 |
| CP11M6SE | 1/2 IN DR 11 MM SE IMPACT SKT | 1 |
| CP12M6SE | 1/2 IN DR 12 MM SE IMPACT SKT | 1 |
| CP13M6SE | 1/2 IN DR 13 MM SE IMPACT SKT | 1 |
| CP14M6SE | 1/2 IN DR 14 MM SE IMPACT SKT | 1 |
| CP15M6SE | 1/2 IN DR 15 MM SE IMPACT SKT | 1 |
| CP16M6SE | 1/2 IN DR 16 MM SE IMPACT SKT | 1 |
| CP17M6SE | 1/2 IN DR 17 MM SE IMPACT SKT | 1 |
| CP18M6SE | 1/2 IN DR 18 MM SE IMPACT SKT | 1 |
| CP19M6SE | 1/2 IN DR 19 MM SE IMPACT SKT | 1 |
| CP20M6SE | 1/2 IN DR 20 MM SE IMPACT SKT | 1 |
| CP21M6SE | 1/2 IN DR 21 MM SE IMPACT SKT | 1 |
| CP22M6SE | 1/2 IN DR 22 MM SE IMPACT SKT | 1 |
| CP24M6SE | 1/2 IN DR 24 MM SE IMPACT SKT | 1 |
| CUP2BSE | 1/2 IN DR SE IMPACT UNIV JOINT | 1 |
| CXP3BSE | 1/2 IN DR 3 IN IMPACT EXT | 1 |
1/2 IN DRIVE 30 PC METRIC SILVER EAGLE IMPACT SOCKET SET
3
3
everything you need for working on cars!!!!
well everything except axle nut sockets, still hands down best quality for the price!!
October 18, 2013
cheap quality product
didnt say that it was a ADV product. i was looking for the matco brand. but product is still a good quality product
September 1, 2011
Good set at a good price.
This set provides great durability and the Matco quality expected.
October 9, 2011