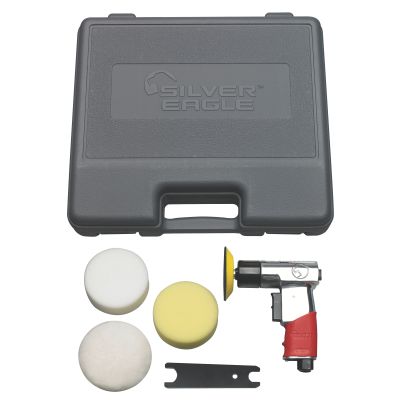 SE730KSILVER EAGLE MINI POLISHING KIT
SE730K SILVER EAGLE MINI POLISHING KIT
Features & Benefits
Polisher features rubber molded grip for comfort.
Two finger throttle for easier control and less fatigue.
Adjustable speed regulator to match speed to job.
Handle exhaust directs exhaust away from work area
Small and lightweight for ease of use in tight areas.
Kit includes: mini polisher, 3" Velcro sanding pad, 3-1/2" buffing bonnet, 3" white compounding foam pad, and 3" yellow compounding foam pad
SE730 - Mini Polisher
SE4303 - 3" Velcro Sanding Pad
SE7302 - 3-1/2" Buffing Bonnet
SE7303 - 3" White Compounding Foam Pad
SE7304 - 3" Yellow Compounding Foam Pad
Return Policy
Return for refund within: 30 days
Return for replacement within: 30 days
| Part # | Product Name | Qty in Set |
| --- | --- | --- |
| SE730 | MINI POLISHER | 1 |
| MT16302 | 3 IN WHITE WAFFLE PAD | 1 |
| SE4303 | 3" VELCRO PAD | 1 |
| K7RS233A28 | WRENCH F/RL730K | 1 |
| SE7302 | 3-1/2" BUFFING BONNET | 1 |
| SE7303 | 3" WHITE COMPOUNDING FOAM PAD | 1 |
| SE7304 | 3" YELLOW COMPOUNDING FOAM PAD | 1 |
| K7RSSE730KCS | CASE FOR SE730 | 1 |
SILVER EAGLE MINI POLISHING KIT
2
2
By far the best tool I own
I do a lot of custom painting on motorcycles, helmets and a lot of other smaller items. It was until I purchased this item I never found a polisher small enough for some of the small projects I do. Been very happy with it ever since, it gets in every little small area I need that I wouldn't be able to with a normal buffer.
November 2, 2011
one of the best investments i made.
if you clean or restore headlights without this your killing yourself. it cuts the time by 2/3 and does twice the job. a no brainer. works well at touching up scuffs and scatches in paint ( with care ) as well.
September 27, 2011