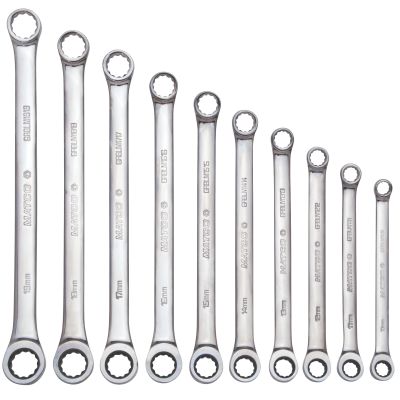 SGRBLM10T10 PIECE METRIC 12 POINT LONG DOUBLE BOX PRO-SWING™ RATCHETING WRENCH SET
SGRBLM10T 10 PIECE METRIC 12 POINT LONG DOUBLE BOX PRO-SWING™ RATCHETING WRENCH SET
Features & Benefits
Breaks frozen fasteners then speeds them off without changing tools
One tool with speed and power
Box end with 15º offset and a same size ratcheting end
DOUBLE BOX WITH BREAK AND RATCHETING ENDS
SLIM HEAD PROFILE allows technicians to reach tight spaces
25% stronger than conventional ratcheting wrenches
applies more force without damage, extends tool life
72-TOOTH PAWL engages after minimal handle movement, just 5º of swing
Works in restricted workspaces, speeds fasteners off with less handle swing
Speed and efficiency of a ratchet for places others wont go
Includes sizes: 10mm - 19mm
Return Policy
Return for refund within: 30 days
Return for replacement within: 30 days
| Part # | Product Name | Qty in Set |
| --- | --- | --- |
| GRBLM1010 | 10MM DBL BX PRO-SWING | 1 |
| GRBLM1111 | 11MM DBL BX PRO-SWING | 1 |
| GRBLM1212 | 12MM DBL BX PRO-SWING | 1 |
| GRBLM1313 | 13MM DBL BX PRO-SWING | 1 |
| GRBLM1414 | 14MM DBL BX PRO-SWING | 1 |
| GRBLM1515 | 15MM DBL BX PRO-SWING | 1 |
| GRBLM1616 | 16MM DBL BX PRO-SWING | 1 |
| GRBLM1717 | 17MM DBL BX PRO-SWING | 1 |
| GRBLM1818 | 18MM DBL BX PRO-SWING | 1 |
| GRBLM1919 | 19MM DBL BX PRO-SWING | 1 |
10 PIECE METRIC 12 POINT LONG DOUBLE BOX PRO-SWING" RATCHETING WRENCH SET
3
3
Great Product
I bought this set about 15 years ago...STILL own and use them every day!!! I am sure they have gotten better thru the years so if the new is anything like the old then they will last you a long time!
June 13, 2012
A MUST HAVE SET
I am a tech at a dealership in Dallas TX. I have always believed that professional techs need professional tools. This set was the first set of tools I bought off the MATCO truck. I do have to say that it was money well spent. I would also like to say that I have used other name brand tools a great deal and well hands down MATCO holds the bar very high.
August 28, 2011
GREAT
These wrenches are GREAT. The ratcheting mechanism is tough as nails and ultra smooth. I really like these wrenches. Break it loose and speed fasteners off with one wrench. GREAT product Matco !
December 9, 2011