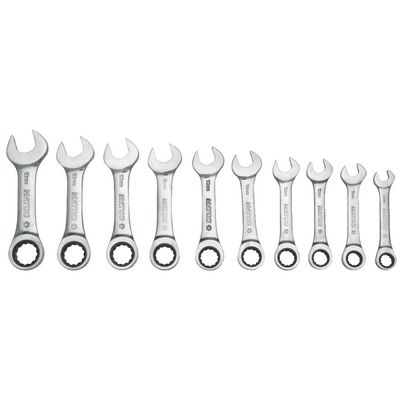 SGRBSM10T10 PIECE METRIC 12 POINT STUBBY COMBINATION PRO-SWING™ WRENCH SET
SGRBSM10T 10 PIECE METRIC 12 POINT STUBBY COMBINATION PRO-SWING™ WRENCH SET
Features & Benefits
Technicians can break frozen fasteners with Opti-Torque Pro open-end, then speed them off with the ratcheting end.
Slim head fits in tight spaces so technicians can get the speed and efficiency of a ratchet where others won't fit.
Opti-Torque Pro open-end feature allows technicians to apply 25% more torque on the fastener while eliminating tip spread.
The 72-TOOTH PAWL of the Pro-Swing ratchet end engages after just 5 degrees of swing, not 20 degrees like other wrenches. So it works in the tightest spaces with minimal handle movement.
Ratcheting box and open end.
SLIM HEAD PROFILE, not bulky like other ratcheting wrenches.
Includes sizes: 10mm-19mm
Return Policy
Return for refund within: 30 days
Return for replacement within: 30 days
| Part # | Product Name | Qty in Set |
| --- | --- | --- |
| GRBSM1010 | 10MM STUBBY COMBO PRO SWING | 1 |
| GRBSM1111 | 11MM STUBBY COMBO PRO SWING | 1 |
| GRBSM1212 | 12MM STUBBY COMBO PRO SWING | 1 |
| GRBSM1313 | 13MM STUBBY COMBO PRO SWING | 1 |
| GRBSM1414 | 14MM STUBBY COMBO PRO SWING | 1 |
| GRBSM1515 | 15MM STUBBY COMB PRO SWING | 1 |
| GRBSM1616 | 16MM STUBBY COMBO PRO SWING | 1 |
| GRBSM1717 | 17MM STUBBY COMBO PRO SWING | 1 |
| GRBSM1818 | 18MM STUBBY COMBO PRO SWING | 1 |
| GRBSM1919 | 19MM STUBBY COMBO PRO SWING | 1 |
10 PIECE METRIC 12 POINT STUBBY COMBINATION PRO-SWING" WRENCH SET
5
5
This product is convenient
I love my stubby wrenches they are the most used set in my box. They are extremely helpful when you're under the hood of a car trying to get to hard to reach places, which is almost all the time when doing most repairs and even some basic maintenance. Honestly I use these wrenches for most jobs on both my truck and my bike. I would recommend this set to anyone; family, friends, and any mechanic or "DIY" enthusiast. This set is perfect for at home work and shop work.
November 3, 2011
Great in tight spaces
These stubby metric wrenches are a must have for hard to reach small spaces. They allow you to get a little more rotation on a bolt because of there size. And the ratchet box end allows you to loosen the bolt with out having to reset the wrench after every turn.
November 15, 2011
Nice stubbys.
Nice little wrenches. feel good in your hands. Ergonomic.
October 30, 2011
great stubby set
awesome stubby wrench set for tight spots and a great angle on the head
October 11, 2011
great wrenches!
ideal for tight spots, great versatility and wont slip. i would definitly recommend this tool.
September 1, 2011