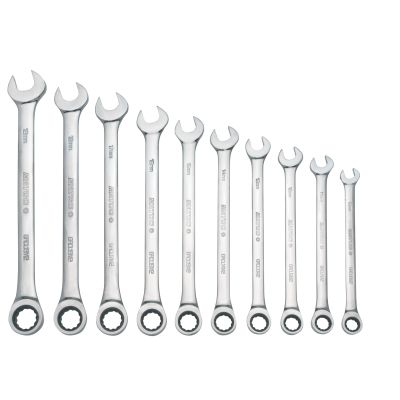 SGRCLM10T10 PIECE METRIC 12 POINT LONG COMBINATION PRO-SWING RATCHETING WRENCH SET
SGRCLM10T 10 PIECE METRIC 12 POINT LONG COMBINATION PRO-SWING RATCHETING WRENCH SET
Features & Benefits
2 tools in 1; use in any wrench and socket/ratchet application
Break frozen fasteners in hard to get areas with Matcos Opti-Torque Pro? open end, then speed them off with our Pro-Swing reversible ratcheting end
Mirror like surface finish.
Centered, clear stamp.
Gear concentric to O.D.
Includes sizes: 10mm-19mm
Return Policy
Return for refund within: 30 days
Return for replacement within: 30 days
| Part # | Product Name | Qty in Set |
| --- | --- | --- |
| GRCL10M2 | 10MM COMBO PRO SWING | 1 |
| GRCL11M2 | 11MM COMBO PRO SWING | 1 |
| GRCL12M2 | 12MM COMBO PRO SWING | 1 |
| GRCL13M2 | 13MM COMBO PRO SWING | 1 |
| GRCL14M2 | 14MM COMBO PRO SWING | 1 |
| GRCL15M2 | 15MM COMBO PRO SWING | 1 |
| GRCL16M2 | 16MM COMBO PRO SWING | 1 |
| GRCL17M2 | 17MM COMBO PRO SWING | 1 |
| GRCL18M2 | 18MM COMBO PRO SWING | 1 |
| GRCL19M2 | 19MM COMBO PRO SWING | 1 |
10 PIECE METRIC 12 POINT LONG COMBINATION PRO-SWING RATCHETING WRENCH SET
7
7
Best wrench set in my box
I use them where I cannot get my impact and they get the job done quick and easy. They are comfortable and have a smooth ratchet end for those nuts and bolts in tight spots.
April 17, 2012
Great Set
Very impressed with the feel and quality of these wrenches The ratcheting end is very smooth and bites well. The only complaint is that the ratcheting end of my 15mm and 12mm failed almost immediatley during the first use but were replaced quickly.
February 24, 2012
STRONG AND DURABLE Ratcheting Wrenches
This Wrench set is an amazingly high quality Set. I've had snap on set that is similar and the ratchet ring always breaks! This set I've had for over a year, and I've used it in very strenuous situation where I know that if I used my other tool set it would have broken 10 times over. This is a STRONG AND DURABLE Ratcheting Wrench set!!
October 22, 2011
great
this is the first ratchet wrench set i bought, ten years ago when they originally came out. the open end design works extremely well, ratchet end is very smooth. has a lower profile reverse lever than other brands, which means you won't be knocking it the other direction all the time.
November 17, 2011
perfect wrench
love these wrenches!!! fit most every where great for tight places where a rachet wont go and prevents you from 1/4 turn at a time with a tradional wrench.
November 20, 2011
Matco tools combination wrenches are the best** very comfortable to work with love workin and wreching on the big trucks with your tool's.
what is thier to say matco is the best i would recommend to anybody looking to buy tools love working with them my tool box is filled with matco.
October 28, 2011
The Perfect Wrench
Thsi is the best set of wrenchs i have ever owned!!!!
December 11, 2011