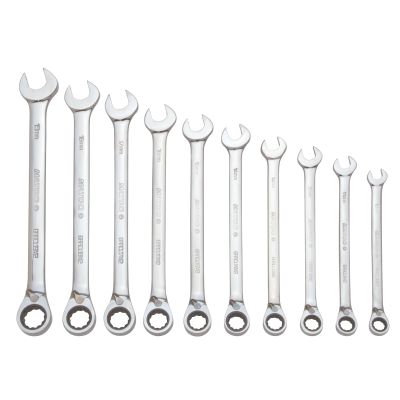 SGRRCLM10T10 PIECE METRIC 12 POINT REVERSIBLE COMBINATION PRO-SWING™ RATCHETING WRENCH SET
SGRRCLM10T 10 PIECE METRIC 12 POINT REVERSIBLE COMBINATION PRO-SWING™ RATCHETING WRENCH SET - Features & Benefits
Break frozen fasteners in hard to get areas with Matcos Opti-Torque Pro(TM) open end, then speed them off with our Pro-Swing reversible ratcheting end
Reversing lever with 12-degree offset provides on the fly ratcheting adjustability with knuckle clearance
Slim head profile to get into tight areas
Opti-Torque Pro(TM) open end allows 25% more torque on fastener and 50% less tip spread without damaging fastener
10 piece set includes sizes from 10-19mm
72-tooth pawl for fine ratcheting and 5-degree swing arc
Forged beam construction that is 25% stronger than the typical ratcheting wrenches
Longest configuration in the industry to allow more leverage on frozen fasteners
Made in USA
Includes sizes: 10mm-19mm
| Part # | Product Name | Qty in Set |
| --- | --- | --- |
| GRRCL10M2 | 10MM REV PRO SWING | 1 |
| GRRCL11M2 | 11MM REV PRO SWING | 1 |
| GRRCL12M2 | 12MM REV PRO SWING | 1 |
| GRRCL13M2 | 13MM REV PRO SWING | 1 |
| GRRCL14M2 | 14MM REV PRO SWING | 1 |
| GRRCL15M2 | 15MM REV PRO SWING | 1 |
| GRRCL16M2 | 16MM REV PRO SWING | 1 |
| GRRCL17M2 | 17MM REV PRO SWING | 1 |
| GRRCL18M2 | 18MM REV PRO SWING | 1 |
| GRRCL19M2 | 19MM REV PRO SWING | 1 |
10 PIECE METRIC 12 POINT REVERSIBLE COMBINATION PRO-SWING" RATCHETING WRENCH SET
5
5
The Bruiser
These wrenches are awesome. They are plenty long enough to get some serious torque to break even the most stubborn nuts. There slim enough to get in some tight spaces, and they are smooth ratcheting. Durable as well, as they have taken a ride across the garage floor from time to time. Great product Matco, keep up the great work!
December 28, 2011
Better than expected
I was not sure I was going to like the ratcheting part of this wrench set. I thought that I would never use the wrenches. Now they are my go to wrenches. The wrenches are well made, strong, and the ratchet part is convenient. I would recommend these wrenches to anyone needing a ratchet that can fit into tight spaces.
December 27, 2011
Great product
Love these wrenches, very durable and good ratcheting action. When I go to pick up a wrench out of my box usually go for these first
December 6, 2011
quality
i bought a used set a year ago. i abuse the heck out of these things (only wrenches in my cart anymore) and they're holding up great. american made too!
December 2, 2011
These wrenches are the way to go!
Great versatility with ratcheting wrenches. You cannot go wrong!
September 15, 2011