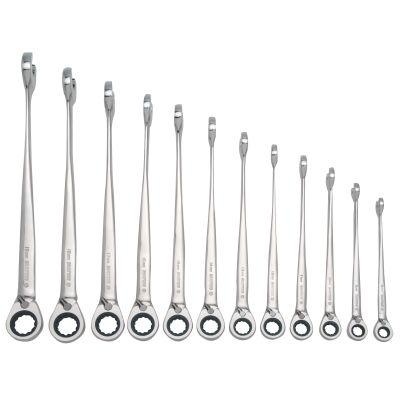 SGRRECLM12T12 PIECE METRIC 12 POINT ERGONOMIC REVERSIBLE RATCHETING WRENCH SET
SGRRECLM12T 12 PIECE METRIC 12 POINT ERGONOMIC REVERSIBLE RATCHETING WRENCH SET
Features & Benefits
Ergonomic beam design increase comfort and increases torque
Extra-long beam length helps reach where standard wrenches will not
Fine tooth ratcheting box end for tightening and loosening hard to access fasteners
Includes sizes: 8mm - 19mm
Return Policy
Return for refund within: 30 days
Return for replacement within: 30 days
| Part # | Product Name | Qty in Set |
| --- | --- | --- |
| GRRECL10M2 | 10MM ERGO REV RATCHETING WRENC | 1 |
| GRRECL11M2 | 11MM ERGO REV RATCHETING WRENC | 1 |
| GRRECL12M2 | 12MM ERGO REV RATCHETING WRENC | 1 |
| GRRECL13M2 | 13MM ERGO REV RATCHETING WRENC | 1 |
| GRRECL14M2 | 14MM ERGO REV RATCHETING WRENC | 1 |
| GRRECL15M2 | 15MM ERGO REV RATCHETING WRENC | 1 |
| GRRECL16M2 | 16MM ERGO REV RATCHETING WRENC | 1 |
| GRRECL17M2 | 17MM ERGO REV RATCHETING WRENC | 1 |
| GRRECL18M2 | 18MM ERGO REV RATCHETING WRENC | 1 |
| GRRECL19M2 | 19MM ERGO REV RATCHETING WRENC | 1 |
| GRRECL8M2 | 8MM ERGO REV RATCHETING WRENCH | 1 |
| GRRECL9M2 | 9MM ERGO REV RATCHETING WRENCH | 1 |
12 PIECE METRIC 12 POINT ERGONOMIC REVERSIBLE RATCHETING WRENCH SET
4
4
Great Wrenches!
I do love these wrenches, they are comfortable and fast, saves time to run back to the box and get the "cheater wrench". If I could change 1 bit about it, is that the head would lock. I smashed my knuckles a few times from that, but over all, GREAT wrenches!
January 28, 2012
This product is very easy to use.
The shape of the wrenches allows for a smoother, more comfortable fit anywhere you sue them without having to put huge amounts of pressure on it or your hands. I love this tool set.
December 13, 2011
Comfortable wrenches
These wrenches are comfortable to use, because they allow you to put more pressure on them without having to use a cheater bar. Also great speed with ratcheting box end.
November 15, 2011
great wrenches
with the flex head you can get hard to reach items. the twisted design gives you a more comfortable grib and more leverage.
September 1, 2011