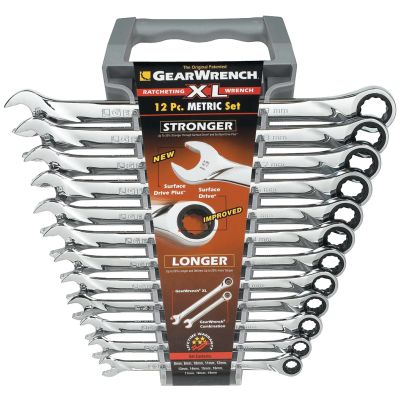 SGW8509812 pc XL Combination Ratcheting Wrench Set
SGW85098 12 pc XL Combination Ratcheting Wrench Set
Features & Benefits
XL ratcheting wrenches are 20 percent longer and 25 percent stronger than standard ratcheting combination wrenches.
Sizes 8mm-19mm
Return Policy
Return for refund within: 30 days
Return for replacement within: 30 days
| Part # | Product Name | Qty in Set |
| --- | --- | --- |
| GW85008 | 8 MM XL COMBINATION WRENCH | 1 |
| GW85009 | 9 MM XL COMBINATION WRENCH | 1 |
| GW85010 | 10 MM XL COMBINATION WRENCH | 1 |
| GW85011 | 11 MM XL COMBINATION WRENCH | 1 |
| GW85012 | 12 MM XL COMBINATION WRENCH | 1 |
| GW85013 | 13 MM XL COMBINATION WRENCH | 1 |
| GW85014 | 14 MM XL COMBINATION WRENCH | 1 |
| GW85015 | 15 MM XL COMBINATION WRENCH | 1 |
| GW85016 | 16 MM XL COMBINATION WRENCH | 1 |
| GW85017 | 17 MM XL COMBINATION WRENCH | 1 |
| GW85018 | 18 MM XL COMBINATION WRENCH | 1 |
| GW85019 | 19 MM XL COMBINATION WRENCH | 1 |
12 pc XL Combination Ratcheting Wrench Set
9
9
Time Saver
I love these wrenches. This is one of my best purchases. They will not disappoint. Everyone ask me to borrow them at the shop because they save so much time. If you are a flat rater, then you know how TIME is valuable. If you are looking for a good quality set , I highly recommend this one.
July 14, 2013
best set of wrenches i own
these wrenches come in handy almost everyday at work. i am able to use them on multiple types of jobs that i would never use a regular wrench on. this product will not disappoint.
September 12, 2011
Great tool
Great for places that is hard to get a ratchet into. gives you all torque on the head of the bolt as opposed to using a deep well socket. Would definitely recommend these. They will quickly become your best friend.
December 12, 2011
love'em
the absolute best ratcheting wrench on the market .
December 21, 2011
Love it
Ratcheting is always smooth. never rounds nuts or bolts. I wouldn't want any other wrench in my toolbox. Can't wait till i get the metric set.
October 30, 2011
love them
Best thing I ever bought I would recommend them to every one
December 12, 2011
GREAT TOOL!!!
These are honestly a mechanics best friend in the work place or at home!
November 2, 2011
Durable. Gear dosent bind up. Wrench doesn't slip
Great and easy to use gear wrenches. Found they don't slip and gear doesn't bind. Great into hard places
October 12, 2011