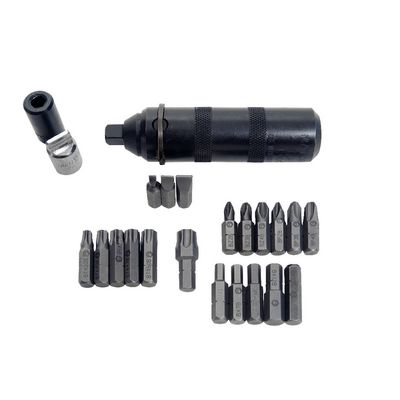 SID23PB23 PIECE IMPACT DRIVER & BIT KIT
SID23PB 23 PIECE IMPACT DRIVER & BIT KIT
Features & Benefits
The most-used bits for automotive applications
Bits feature black oxide finish, 5/16" hex shank diameter, and 1-1/8" to 1-1/2" length
Packaged in red plastic case
Return Policy
Return for refund within: 30 days
Return for replacement within: 30 days
| Part # | Product Name | Qty in Set |
| --- | --- | --- |
| BTX55BA | 5/16 X1 1/4 T55 TORX BIT | 1 |
| BP2B | 5/16 X 1-1/4 P#2 BIT | 1 |
| BX6B | 5/16 X 1-1/4 3/16 HEX BIT | 1 |
| BS10B | 5/16 X 1-1/4 9/32 SLOT BIT | 1 |
| BTX50B | 5/16 X 1-1/4 T50 TORX BIT | 1 |
| BS4B | 5/16 X 1-1/4 5/32 SLOT BIT | 1 |
| BTX40B | 5/16X 1 1/4 T40 TORX BIT | 1 |
| PLSID | LABEL F/SID23PB BOX | 1 |
| ID67 | IMPACT DRIVER | 1 |
| B22DL | 3/8 DRAG LINK SOCKET | 1 |
| BX7B | 5/16 X 1-1/4 7/32 HEX BIT | 1 |
| BP3B | 5/16 X 1-1/4P#3 BIT | 1 |
| BX10B | 5/16 X 1-1/4 5/16 HEX BIT | 1 |
| BX8B | 5/16 X 1-1/4 1/4 HEX BIT | 1 |
| BTX30B | 5/16 X 1/1/4 T30 TORX BIT | 1 |
| BX12B | 5/16 X 1-1/4 3/8 HEX BIT | 1 |
| BP4B | 5/16X 1-1/4 P#4 BIT | 1 |
| BZ2B | 5/16X1.25 PZ2 POZIDRIV SCR BI | 1 |
| PBSIDA | BLOW MOLDED CASE FOR SID23PB | 1 |
| BS14B | 5/16 X 1-1/4 11/32 SLOT BIT | 1 |
| BZ3B | 5/16X1.25 PZ3 POZIDRIV SCR BI | 1 |
| BTX45B | 5/16 X 1 1/4 T45 TORX BIT | 1 |
| BZ4B | 5/16X1.25 PZ4 POZIDRIV SCR BI | 1 |
| BP106DA | 3/8 X 5/16 HEX BIT HOLDER | 1 |
| BTX47B | 5/16X 1 1/4 T47 TORX BIT | 1 |
23 PIECE IMPACT DRIVER & BIT KIT
4
4
Design flaw
This kit is everything you need, and its a great set tot have. However, Matco needs to look at this and do some tweaking. I like the reversible feature, but to change the tool direction, you push up on the 3/8 anvil (where the bits go) and turn it so that it either tightens or loosens. the problem i have is that when you strike the tool with a large hammer, it obviously pushes down in the same direction as you would to change direction, and every time i hit it the direction changes. This is extremely frustrating. It seems that every time i use this tool, i bend or break a bit but i am able to warranty them through my dealer. If i can, i will trade this in for a Snap-on or other comparable brand that will not give me any trouble.
August 18, 2012
weak bits
good set with all the bits you'd ever need. only problem is the bits are alittle weak. twisted the p2 bit on first use.
February 5, 2013
This impact driver will help you save time and avoid headaches.
I had several screws on my motorcycle which were frozen and I stripped the heads trying to get them off. I did some research on tools that would help me get the screws out, I tried several different tools but the one that eventualy got the job done was my new Matco impact driver. I wish i had this wonderful set several years ago, it is a must have in every tool box. Thanks Matco Tools!!!
December 25, 2011
This kit is boss
My uncle, a former heavy duty diesel tech, passed this kit down to me. It is beyond awesome. The bits are a bit warped from major heavy duty usage, but they still work great.
February 28, 2012