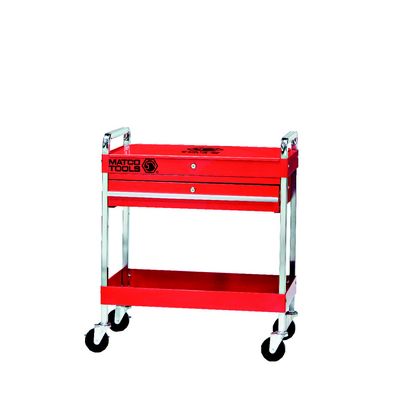 SP8230SERVICE CART WITH LID andDRAWER
SP8230 SERVICE CART WITH LID andDRAWER - Features & Benefits
Service cart with locking lid and drawer.
Locking lid for security.
Locking drawer features roller bearing slides.
4" large wheels for easy maneuverability.
Two wheels lock.
350 lb. load capacity.
16 gauge steel frame.
Durable powder coat finish.
3" deep bottom shelf.
35-5/16" height, x 30" long x 16" wide.
SP8230 - Red
SP8230BK - Black
SP8230BL - Blue
SP8230Y - Yellow
SERVICE CART WITH LID andDRAWER
9
9
Good little cart
work good easy to move around. drawer is hard to open thats the only thing about this cart i dont like. i think i need a bigger one now
September 23, 2012
This cart is awesome!
I brought this from my local Matco tool distributor, may he R.I.P. I also have an extra drawer that i added to it, I'm only a GS and this cart has everything I need. Only complaint, is I wish the top and drawers were deeper so i can stand my sockets instead of laying them down, takes a little bit of space, but I've managed to deal with it. Other than that can't complain easy to move around, looks great, and responsible price. Don't see why not to buy it
September 26, 2011
Excellent for the price
I bought around 10yrs. ago, used daily in the shop and still used today. I have replaced all 4 casters only once. Paint has held up nicely. Bought the leg extensions, divider insert for top shelf, side shelf and locking screwdriver/ prybar holder and all is still there today. I must say that being used daily for 10+ years it still functions perfectly as the day I bought it and that says alot.
October 9, 2011
Rough and tough as you can ask for.
I bought this little cart around six or seven months ago and I weigh it down day after day with tools parts and all kinds of odds and ins in the bottom compartment. Thought it was a great little cart until this morning when a co worker hit it with a full size pick up truck. The cart is hardly damaged at all solid as a rock! great buy!
October 8, 2011
Saves space and time
works great to store common used tools so you always have access to them when mobile around the shop. saves space for my main toolbox for less used or specialty tools.
December 6, 2011
AWSOME LITTLE CART
I work at a dealership in Dallas TX. I bought this cart off the MATCO truck and wag this little cart with me all over the shop. I love it its light well lighter than my box and is durable enough to have a days worth of tools in it without wearing down. Its a good cart to have and wouldnt want to be without it.
August 28, 2011
so handy around the shop
When working away from my box or the other end of the car it let's me stay were I am without having to go back and forth
October 21, 2011
great cart wheel roll very well
was very pleased with product. rolls well and keeps all the small tools that i own
October 18, 2011