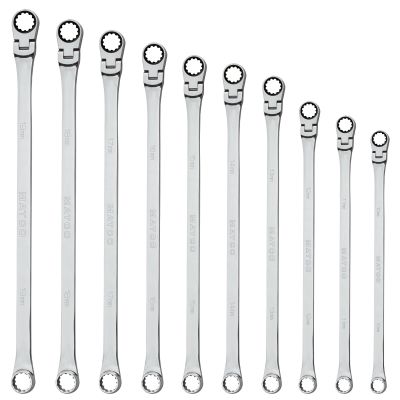 SRFBZLM102TA10 PIECE ZERO DEGREE FLEX RATCHETING EXTRA LONG WRENCH SET
SRFBZLM102TA 10 PIECE ZERO DEGREE FLEX RATCHETING EXTRA LONG WRENCH SET
Features & Benefits
Zero degree offset box end and flex ratcheting end on extra long beam
Loosen or tighten any 6pt, 12pt, spline, TORX, square and even up to 50% rounded off fasteners
72 teeth flexible head ratcheting wrench gains access where standard ratcheting wrenches will not fit with a minimal 5° swing arc
Extra long beam for increased access
Includes sizes: 10mm - 19mm
Return Policy
Return for refund within: 30 days
Return for replacement within: 30 days
| Part # | Product Name | Qty in Set |
| --- | --- | --- |
| RFBZXLM1010A | 10 MM 0 DEG XL RATCH WRENCH | 1 |
| RFBZXLM1111A | 11 MM 0 DEG XL RATCH WRENCH | 1 |
| RFBZXLM1212A | 12 MM 0 DEG XL RATCH WRENCH | 1 |
| RFBZXLM1313A | 13 MM 0 DEG XL RATCH WRENCH | 1 |
| RFBZXLM1414A | 14 MM 0 DEG XL RATCH WRENCH | 1 |
| RFBZXLM1515A | 15 MM 0 DEG XL RATCH WRENCH | 1 |
| RFBZXLM1616A | 16 MM 0 DEG XL RATCH WRENCH | 1 |
| RFBZXLM1717A | 17 MM 0 DEG XL RATCH WRENCH | 1 |
| RFBZXLM1818A | 18 MM 0 DEG XL RATCH WRENCH | 1 |
| RFBZXLM1919A | 19 MM 0 DEG XL RATCH WRENCH | 1 |
10 PIECE ZERO DEGREE FLEX RATCHETING EXTRA LONG WRENCH SET
2
2
Extreme Utilty
These wrenches do it all! The length allows you to apply maximum torque with little effort. The ratchet end speeds removal/installation, and the flex head gives it very good access in congested areas. These have replaced many of my socket/ratchets in everyday jobs like disc brakes, oil changes, undercar repairs. They have a great feel and balance in your hand. The ratchet end is more than capable of breaking loose bolts, but if you insist, or require zero movement (like adjusting camshafts) the standard end will do those jobs just fine. I love Matco wrenches. They are leading the industry IMO. The only detail I wish these had was dual flex end.
March 11, 2013
I love this set so much!
I would def love to able to grab a hold on 8mm and 21-25mmm in a heart beat. I use these wrenches for brake job, engine overhaul, timing belt, etc cant imagine what i would do without them!
February 2, 2013