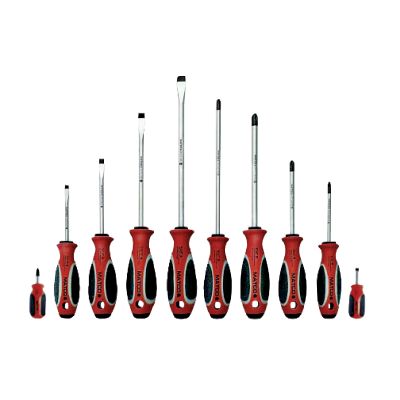 SSPCR8C210 PIECE TOP TORQUE II™ PROMO SET
SSPCR8C2 10 PIECE TOP TORQUE II™ PROMO SET
Features & Benefits
Promotional set includes SSPCR8C - 8 PIECE Top Torque II? screwdrivers plus 2 free stubby screwdrivers.
Stubby bonus screwdrivers: SR82B slotted and SR81P2B #2 Phillips
Return Policy
Return for refund within: 30 days
Return for replacement within: 30 days
| Part # | Product Name | Qty in Set |
| --- | --- | --- |
| SPR63C | 3/16 X 3 SCRDRVR SLOTTED RED | 1 |
| SPR84C | 1/4 X 4 SCRDRVR SLOTTED RED | 1 |
| SPR106C | 5/16 X 6 SCRDRVR SLOTTED RED | 1 |
| SPR128C | 3/8 X 8 SCRDRVR SLOTTED RED | 1 |
| SPR63P1C | 3/16 X 3 SCREWDRIVER P1 RED | 1 |
| SPR84P2C | 1/4" X 4 SCREWDRIVER P2 RED | 1 |
| SPR87P2C | 1/4" X 7 SCRDRVR P2 RED | 1 |
| SPR106P3C | 5/16 X 6" SCRDRVR P3 RED | 1 |
| SR81P2B | 1/4X1-P2-PHLPS STUBBY SD RED | 1 |
| SR82B | 1/4X1 SLOTTED STBY SD RED | 1 |
10 PIECE TOP TORQUE II" PROMO SET
3
3
Good solid set.
A solid set of screwdrivers, glad it has the stubby ones.
July 23, 2013
The best grips
I don't what it is about Matco screwdrivers compared to other manufacturers, they just fit into my hand better than any other brand.
April 18, 2013
Overall great
Comfortable tool that's very good at doing what it's supposed to. I never realized that a screw driver can be any different from the rest but these rock.
December 13, 2012