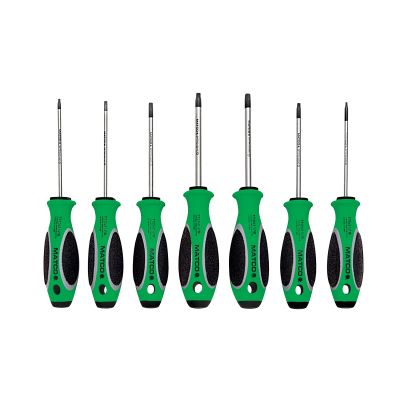 SSPTPG7C7 PIECE TOP TORQUE II GREEN TAMPERPROOF TORX SCREWDRIVER SET
SSPTPG7C 7 PIECE TOP TORQUE II GREEN TAMPERPROOF TORX SCREWDRIVER SET
Features & Benefits
Top Torque II is the Next Generation in 3-Component Triangular Handle screwdrivers.
Application based screwdrivers provide optimal handle size and shape to enhance torque values and improve comfort.
Handle is molded around blade via butterfly shank for greater strength and durability.
Patented flocking surface providing a non-slip grip.
Includes length sizes: 7-1/2", 8"
Return Policy
Return for refund within: 30 days
Return for replacement within: 30 days
| Part # | Product Name | Qty in Set |
| --- | --- | --- |
| SPTPG8C | 3-1/2 X TT8 SCRDR TP TORX -GR | 1 |
| SPTPG10C | 3-1/2 X TT10 SCRDR TP TORX -G | 1 |
| SPTPG15C | 3-1/2 X TT15 SCRDR TP TORX -G | 1 |
| SPTPG20C | 3-1/2 X TT20 SCRDR TP TORX -G | 1 |
| SPTPG25C | 3-1/2 X TT25 SCRDR TP TORX -GR | 1 |
| SPTPG27C | 3-1/2 X TT27 SCRDR TP TORX -G | 1 |
| SPTPG30C | 3-1/2 X TT30 SCRDR TP TORX -GR | 1 |