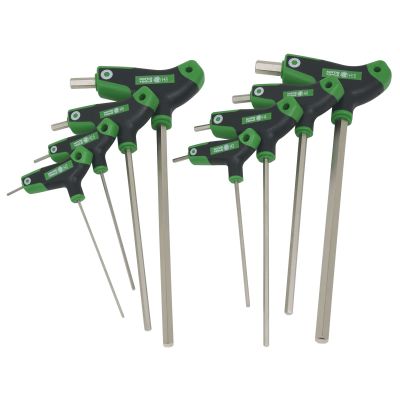 STXM88 PIECE METRIC T-HANDLE HEX KEY SET
STXM8 8 PIECE METRIC T-HANDLE HEX KEY SET
Features & Benefits
Each t-handle features a "Stubby" shank on the side of the handle for optimum access and a bolster hole for expanded torque to remove the toughest, frozen fasteners
Ideal for installing/removing Metric Hex fasteners in the most compact areas including instrument panels, interior, etc
Ergonomic T-handles are designed to contour to ones hand and enable ultimate torquing power
Includes sizes: 2mm, 2.5mm, 3mm - 6mm, 8mm, 10mm
Return Policy
Return for refund within: 30 days
Return for replacement within: 30 days
| Part # | Product Name | Qty in Set |
| --- | --- | --- |
| TXM10 | 10 MM T-HANDLE WRENCH | 1 |
| TXM2 | 2MM T-HANDLE WRENCH | 1 |
| TXM25 | 2.5MM T-HANDLE WRENCH | 1 |
| TXM3 | 3 MM T-HANDLE WRENCH | 1 |
| TXM4 | 4 MM T-HANDLE WRENCH | 1 |
| TXM5 | 5 MM T-HANDLE WRENCH | 1 |
| TXM6 | 6 MM T-HANDLE WRENCH | 1 |
| TXM8 | 8 MM T-HANDLE WRENCH | 1 |
8 PIECE METRIC T-HANDLE HEX KEY SET
4
4
Very Nice T-Handles
Used for motorcyles and related vehicles, very nice grip. Not too small and not too large to not be used in a tight space. Overrall, very well built tool. Only one problem i ran into, and that's the lettering fades pretty quick.
October 15, 2013
Love the grips
Got these a while back on special. They are extremely handy and are used daily. I especially love the grips. I never wear gloves and the grips are easy on my hands. I bought the metric, standard and hex all in the same day. Great purchase.
September 9, 2011
Must Have!
I bought this a while back and I have honestly used them every single day. The handles fit my hands perfect and the hex heads have never split or smoothed over. They work awesome. One of the best tools in my tool box hands down!
September 18, 2011
Great T-Handles
You guys have the best T-Handles there are. I have your standard, metrics, and torx, awesome stuff
December 30, 2011