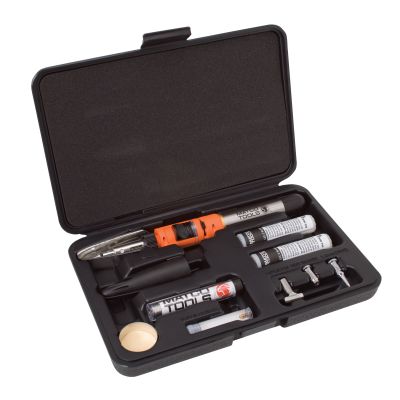 T135K8 PIECE SOLDERING TORCH KIT
T135K 8 PIECE SOLDERING TORCH KIT
Features & Benefits
Approximate temperature for soldering tip: 480-1000° F (250-550° C)
Gas capacity: 20ml; Operating capacity: 200 minutes
Self igniting Piezo Start
Patented LEC (Liquid Energy Cell) technology stores butane in a cartridge that can be removed from the torch when not in use.
CPSC (Consumer Product Safety Commission) compliant
Kit includes: super torch soldering with LEC, 1.6 mm chisel tip, 3.2 mm chisel tip, heat blower, orifice, LEC2 - 2 pack energy cell
Contains: T135 - Super Torch Soldering with LEC
K7RSPS01 - 1.6 mm Chisel Tip, PS04 - 3.2 mm Chisel Tip
3.2 mm Chisel Tip, PS10 - Heat Blower, PS14 - Orifice
LEC2 - 2 Pack Energy Cell
Return Policy
Return for refund within: 30 days
Return for replacement within: 30 days
| Part # | Product Name | Qty in Set |
| --- | --- | --- |
| T135 | SOLDERING TORCH | 1 |
| PS04 | RPL 3.2MM CHISEL TIP F/T110k | 1 |
| K7RSPS01 | 1.6MM TIP F/T110K | 1 |
| PS10 | HEAT BLOWER F/T110K | 1 |
| K7RSPS02 | 3.2 CONICAL TIP F/T130 | 1 |
| K7RSPS03 | 2.4 CHISEL TIP F/T130 | 1 |
| K7RSPS05 | 2.4 ANGLE TIP F/T130 | 1 |
| K7RSPS06 | 3.2 ANGLE TIP F/T130 | 1 |
| K7RSPS09 | HOT KNIFE TIP F/T130 | 1 |
| PS14 | ORIFICE F/T110K | 1 |
| PS30 | HEAT DEFLECTOR F/T110K | 1 |
| K7RSSC | SOLDER COIL FOR T110K | 1 |
| K7RST130NA | NOZZLE ASSY F/T130 | 1 |
| LEC2 | LIQUID ENERGY CELL | 1 |
8 PIECE SOLDERING TORCH KIT
4
4
Not what i expected out of matco
Worked good for the first 5 months. now the butane cells wont hold butane and its a hassle trying to get it to light. it still works i just cant fill the cells completely up.
June 12, 2012
Difficult to light, not reliable dont waste your money very dissappointed
I wish I had not wasted my money on this, Of the thousands of dollars of Matco tools Ive bought, this is my only regret..
June 25, 2013
WORK GREAT IN THE WIND
I DONT LIKE FILLLING THE CARTRAGE WHEN I LET IT SIT ,AND DONT USE IT FOR A WEEK , AND THE GAS HAD LEAK OUT ,IT HARD STARTING , WHEN YOU FIRST PUT THE CARTRAGE IN ,MY HARBOR TOOL TORCH ,NEVER LEAK ANY BUTANE WHEN YO LET IT SIT FOR MONTHS ,AND IT START UP FIRST TIME
December 8, 2012
Awesome selection of included parts
The tip attachments included in this kit are great, everything you need to get going is right in the molded case. Don't forget to get a good sized can of butane though... the cartridges hold a good bit and last quite a while. Excellent product, I use it all the time at the Harley dealership I work at.
September 8, 2011