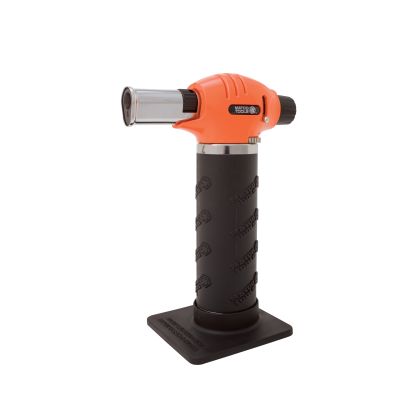 T235ELECTRONIC IGNITION TORCH
T235 ELECTRONIC IGNITION TORCH
Features & Benefits
Piezo start
Adjustable air and gas flow
Durable brass body with protective cover makes this torch ideal for shop environments.
Applications: welding, brazing, wire soldering and silver soldering
Use butane fuel only
Reaches 2,500° F
Return Policy
Return for refund within: 30 days
Return for replacement within: 30 days
ELECTRONIC IGNITION TORCH
3
3
Many uses.
I've used it for soldering, to start campfires, for shrink wrap, and to heat smaller nuts and bolts. I tried to braze with it, but it's just not quite hot enough for the rod I had. It might work for some brazing rods. Usually starts by the second attempt and resists blowing out in the wind pretty well. It is shipped empty, so you will need some butane to use it.
January 3, 2014
Durable torch, ready for the field!
This is the second T235 torch I have purchased, the first one stays in my toolbox, the second in the service truck. I have used this torch an endless number of times in all types of weather. I have dropped the torch multiple times on concrete (on accident) and it never fails! This is a must have tool if you do any electrical work, perfect for solder or heat-shrink tubing. You can even adjust it so you get just the right flame when your in a tight area like under the dash. It does require two hand operation to ignite but it becomes second nature in no time.
September 7, 2011
Awesome product
This torch is great, fill it up with some butane and you'll be using it for hours and hours. I've used it for everything from shrink tubing to burning color onto wooden antlers Great product.
December 30, 2011