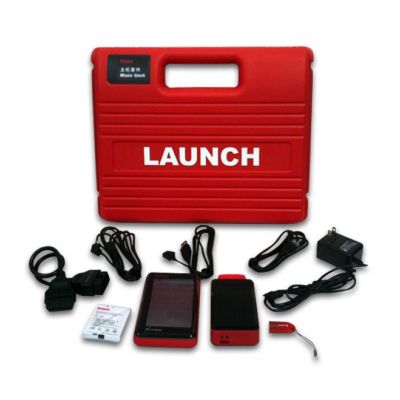 TI301100119LAUNCH X-431 DIAGUN FULL PACKAGE
TI301100119 LAUNCH X-431 DIAGUN FULL PACKAGE
Features & Benefits
The X-431 Diagun was specially designed with the automotive technician in mind.
Features compact main units, powerful diagnostic functions, and fast boot time and navigation.
2 year warranty
Powerful OE-Level software such as module configuration & coding.
Key programming
Steering angle resets and throttle body resets
One connector for OBD II and CAN
Wireless up to 300'
Asian Coverage: Honda, Toyota, Nissan, Mitsubishi, Mazda, Subaru, Suzuki, Hyundai.
European Coverage: BMW, Mercedes, Jaguar, Volvo, VW/Audi, Landrover, Smart, SAAB.
Domestic coverage: GM, Ford, Chrysler, Jeep
Return Policy
Return for refund within: Non-refundable
Return for replacement within: 30 days
LAUNCH X-431 DIAGUN FULL PACKAGE
4
4
good backup scanner
make sure you have another scanner to use as your go to scanner. this tool is slow, some of the english translation is confusing, and it will not communicate alot of the times with various vehicles. the autel maxidas will beat this tool everyday of the week. I tried the diagun and the launch gds. I returned both tools to my tool guy. I don't work on euro vehicles so, I don't know how it performs with them. I tested domestic and Asian vehicles.
April 30, 2013
easy to used
i love it dose every think worth all the money to me :)
June 29, 2013
Great capabilities in such a small scan tool
I used this scan tool. For what it is, it can do so much. Live data stream. Communication with Euro and Asian, with modules most scan tools of its caliber could not do. Wireless Bluetooth, fast for wireless communication with a scan tool. I would totally recommend this product if you want a scan tool that is not that expensive considering all the capabilities this scan tool has.
September 26, 2011
is a very useful tool, i like it because is small and easy to use
it has a lot of things I havent learn, so I need to continue seeking
September 24, 2012