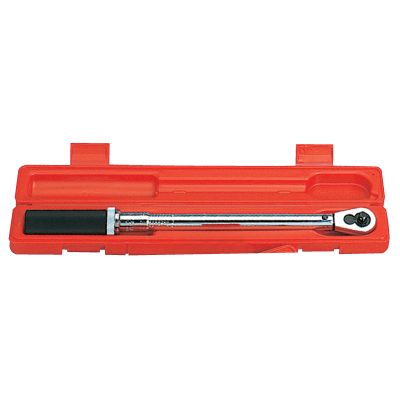 TRB1003/8 FIX 10-100' TORQUE WRENCH
TRB100 3/8 FIX 10-100' TORQUE WRENCH - Features & Benefits
+3% clockwise accuracy between 20% - 100% of range
Audible click when torque setting is reached
Detent style locking collar prevents accidental change of torque setting
Factory calibration tape supplied with each Torque Wrench
Torque Range: 50-250 in.lbs.
Detailed Specs
Repair Kit

BRTRK

Overall Length

17-7/8"

Drive

3/8"

Head Type

Fixed

Graduation

0.5 ft. lbs.

Range

10-100 ft. lbs.

Head Style

Fixed
3/8 FIX 10-100' TORQUE WRENCH
5
5
Great features
finding a 3/8's drive torque wrench that goes from 10 ft/lb up to 100 ft/lb is hard to find. Most stop at 80 or 85. Thia one fits the bill!
February 27, 2013
durable/ comfortable
I have owned 4 torque wrenches previous to my Matco and this is by far my favorite. It holds up being used day in and day out. it is used often and shows practically no signs of wear. It is a good fit for my hands and is comfortable to hold all day, unlike some of the other wrenches I have used. This wrench is also the first I've owned where the locking collar actually doesn't slip. All in all I would have to recommend this wrench to anybody looking for a quality work tool.
November 24, 2011
Solid torque wrench
Solid, accurate and doesn't require batteries. Everything a torque wrench should be.
November 3, 2011
Good torque wrench
Very easy to use, and the detent style lock makes this an excellent torque wrench.
October 27, 2011
Great wrench
I really like this wrench. It has a great finish and precise adjustments. The torque click mechanism works well.
October 14, 2011