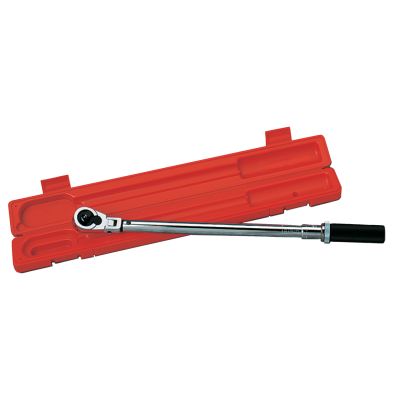 TRC250FA1/2" DRIVE FLEX-HEAD TORQUE WRENCH
TRC250FA 1/2" DRIVE FLEX-HEAD TORQUE WRENCH
Features & Benefits
Longer handle for increased leverage
Complies with both American Standard ANSI/ASME B107.14M and International Standard ISO 6789
+/- 3% clockwise accuracy between 20%-100% of range
Overall length: 25"
Range: 25-250 ft. lbs..
Grad: 1.0 ft. lbs..
Packaged in a red blow molded box
Return Policy
Return for refund within: 30 days
Return for replacement within: 30 days
1/2'' DRIVE FLEX-HEAD TORQUE WRENCH
4
4
The prodcut is world class and stands up to the everyday demands
I have purchased every torque wrench from Matco and found that the 1/2" flex head one is the most versitle one out there.I use it everyday in my job as an Engineer and have it calibrated and tested every 6 months and never is it out form the orignal setttings when I purchased it. This wrench by far is the best one I hae used and I have had multiple other brands prior to purchasing the matco line and the comfort and ease of reading the settings is world class
November 24, 2011
best torque wrench ever
very nice torque wrench that i have ever owned. i have owned 5 torque wrenches and so far this is the best one. as it has flex head and easy to read torque scale..
April 8, 2012
Perfect designed Torque Wrench
I love the perfect design. it fits perfectly into my hand. I feel weight i put on it. Love to work with this torque wrench. I WOULD RECOMMEND THIS TORQUE WRENCH TO ANYONE
December 26, 2012
Great product.
I use this torque wrench for installing head studs on 5.9/6.7 cummins, powerstroke and Duramax diesels. most are 130-230ft/lbs. very nice and easy to use in tight places and doesn't slip out of your hands, even when covered in grease or oil.
October 31, 2012