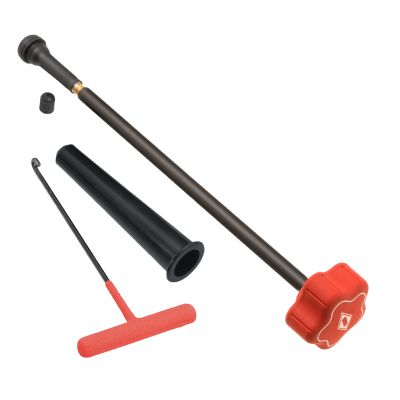 TV90TIRE VALVE REPLACEMENT TOOL
TV90 TIRE VALVE REPLACEMENT TOOL
Features & Benefits
Tool for removing and replacing valve stems
No need to remove the wheel from the car or the tire from the wheel
Tool kit removes faulty valve stem and replaces it all from the outside of the tire
Return Policy
Return for refund within: 30 days
Return for replacement within: 30 days
TIRE VALVE REPLACEMENT TOOL
2
2
Insertion cone cracks easily
I purchased this tool quite a few years back. I worked fine for about 12 uses then the insertion cone cracked. I got a replacement and on the first use of the replacement the cone cracked again. The cone portion of the tool is made of plastic and should be made of at least spun aluminum. All of the other parts of the tool are metal with the exception of the handle on the plunger rod. I no longer have a Matco distributer in my area so it's harder to get it replaced. Reengineer this tool please!
February 23, 2014
Good idea, lousy quality
The kit arrived. I had hoped for professional quality since the price of about $60.00 for a hook, a plastic funnel and a threaded bar is extremely high. The manufacturing cost of these parts in any kind of volume is about $2.00. I tested it according to the instructions and my first valve stem change from the outside of the rim was successful. However the tool (the black funnel part) broke in the process. The tool was useless after just the first valve stem replacement. It makes me mad to pay overprice for such lousy quality. I ended up making a similar tool myself for a cost of $4.00 and it works fine. I have changed 20 stems with my "home made" tool now without any problems.
November 8, 2012