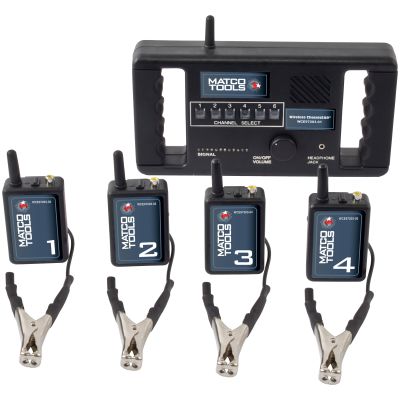 WCE97203WIRELESS CHASSIS EAR
WCE97203 WIRELESS CHASSIS EAR
Features & Benefits
Quickly pinpoints the source and location of noises anywhere throughout any vehicle - all with no wires.
Ideal for under-car chassis and suspension problems and for under hood noises.
Each unit includes 1 receiver, 4 transmitters, headphones, batteries and a customized blow molded case
Return Policy
Return for refund within: 30 days
Return for replacement within: 30 days
| Part # | Product Name | Qty in Set |
| --- | --- | --- |
| FS97203-01 | RECEIVER BOX | 1 |
| FS97203-02 | TRANSMITTER #1 | 1 |
| FS97203-03 | TRANSMITTER #2 | 1 |
| FS97203-04 | TRANSMITTER #3 | 1 |
| FS97203-05 | TRANSMITTER #4 | 1 |
| FS97203-06 | TRANSMITTER #5 | 1 |
| FS97203-07 | TRANSMITTER #6 | 1 |
| FS97203-08 | CABLE LEADS/CLAMPS (4) | 1 |
| FS97203-09 | BLOW MOLDED CASE | 1 |
| FS97203-10 | STEREO MINI EARPHONES | 1 |
| FS97203-12 | VELCRO STRAPS | 1 |
| FS97203-13 | NYLON TIES | 1 |
Great idea but poor performance
This product is a great attempt at a great design, but unfortunitly these chassis ears have so much interference and static. Everything about this product is good except for the poor performance. I can not hear any noise im listening for except frequency interferance. This product needs further design improvements.
May 16, 2013
great for squeaks and rattles.
if you dont like dragging cords all over the place , then step up to this type of chassis ears. has all the features you need to diagnois all types of noises, from suspension rattles and squeaks to hub bearings and drive train noises. has the benefits of using the external speaker or using the supplied ear piece. one of the best diagnoising tools you will ever have in your arsenal.
September 3, 2011