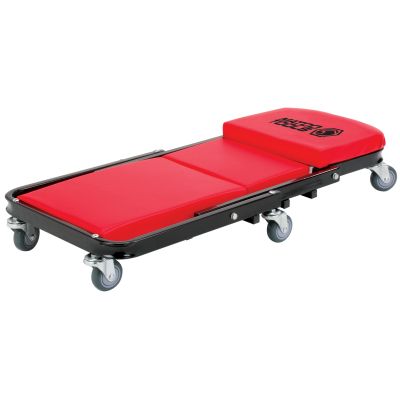 ZC450 Z CREEPER
Features & Benefits
Capacity 450 lbs
All-in-one creeper/creeper seat saves your knees and back
Reinforced structured steel frame
Polyurethane wheels roll smoothly
Return Policy
Return for refund within: 30 days
Return for replacement within: 30 days
Great investment
Very good quality, makes my job comfortable and easy. Liked it so much bought another one for the home shop
January 7, 2013
amazing
when i use this creeper it makes the day 1,000 times better. the combination of comfort and quality are truly amazing and i would not trade it for another. thank you matco for achieving the same great standard in your creepers as you do in your tools. from one soon to be tech (student) to anyone out there interested in making a great investment, this is a great one with a great company. way to go guys
December 21, 2011
A must have for every shop and home
Very comfortable in both the creeper and up right creeper seat positions. Great casters that roll easily over any surface and great ground clearance to clear any obstacles but still low enough to allow you to move around ander a vehicle and work comfortably. easy to convert from creeper to seat and back and a good size and weight so its easy to take anywhere.
September 27, 2011
Great!
I work on a table top all day and having this creeper to make it comfortable has been great i love the high back. When its time to slide under the car i just fold it down.
November 2, 2011
Well worth the money
After 34 years in the business. I have a tool that is multi purpose. It rolls nice and switches from one mode to the other quickly. It also saves the knees and the back.
October 14, 2011