Government & Aviation
Innovative Products
---
When you choose Matco as your partner, you're choosing the industry's leading supplier of innovation – from tools to equipment to storage. We're constantly designing and developing new, innovative products to help increase the efficiency, accuracy and productivity of the professional Technician. We offer over 19,000 stocking SKUs.
Hand Tools
Top-Torque II screwdrivers provide optimum turning power and maximum torque, featuring 3-component ergonomically designed handles that are impervious to aviation fluids, including Skydrol®. Also available are bit drivers, nutdrivers, punches and chisel sets, pliers and hammers.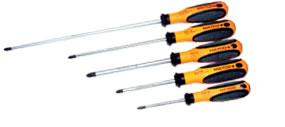 ---
Wrenches
Pro-Swing ratcheting wrenches provide techs with speed and power in tight, compact areas. It features 72-tooth pawl ratcheting action, increased torque and an ergonimcally designed forged beam. The line includes double-box, combination, stubby, zero degree and reversible wrenches. Opti-Torque Pro provides the strongest core combination wrench on the market with long beam design for optimum access.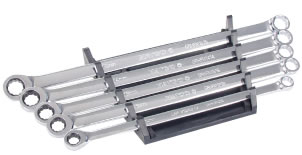 ---
Sockets and Sets
Innovative Hi-Visibility family of sockets featuring laser impregnated markings for at-a-glance identification. Line includes shallow, mid-length, semi-deep, deep, universal sockets and our new universal "true" pinless design.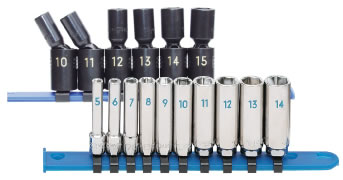 ---
Electric Torque Wrench - ETWB100/ETWC250
+/- 2% accuracy in clockwise and counterclockwise directions
359-degree rotation for visibility at any angle of use
Heavy-duty construction protects electronics in demanding environments
Red, yellow and green LEDs with buzzer alert when target torque level has been reached
Simple 4 button design makes changing torque values and converting units easy
Large, easy-to-read display
Automatic shut-off
In addition to these features, the torque wrenches also include the Teardrop Matco head and the Knurled handle that are popular in our existing clicker type torque wrenches. The electronic torque wrench is available in a 3/8" Drive 100 Ft. lb. wrench and a 1/2" Drive 250 ft. lb wrench.

---
Specialty Aviation Tools
Including Rivet guns, bucking bars, safety wire twisters, flaring kits, countersinks and fasteners.

---
Air Tools
Matco's air tool program features the ultimate combination of power, speed, durability and ergonomics with a full range of drive sizes and types to ensure Technicians have the right air tool for the right job. Air tools with the best torque-to-weight ratio for faster job performance and improved ease of use, including a "quiet" line with best-in-class torque. The line includes key Matco design inputs and patents along with a best-in-class warranty and support program.