Start A Tool Franchise Today
Set Your Own Hours & Control Your Financial Destiny
Discover How to Start a Matco Franchise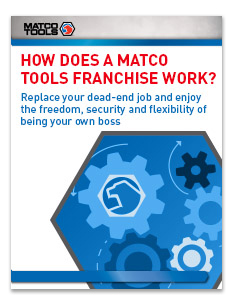 The reality of becoming your own boss just got one step easier. Get instant access to our special report that describes how a Matco Franchise works and how you can start a mobile tool franchise.
You'll learn about start-up costs, financing options, business training programs and much more, including a description of a typical "day in the life" of a Matco franchisee.
If you're looking for a quality company that offers both stability and growth, then Matco Tools is it:
Exclusive delivery routes with 325 customers
In-house financing available to those who qualify
Flexible hours: set your own schedule & your success
Matco offers industry-leading 70+ hours of training, on-going field support, pre-identified customers, and in-house financing — everything you need to launch a successful business.
Fill out the form to the right to learn more about starting a Matco Tools franchise.