Start A Franchise
Set Your Own Hours & Control Your Financial Destiny
Discover How to Start a Matco Franchise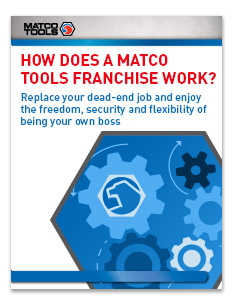 The reality of becoming your own boss just got one step easier. Get instant access to our special report that describes how a Matco Franchise works and how you can start a franchise yourself.
You'll learn about start-up costs, financing options, business training programs and much more, including a description of a typical "day in the life" of a Matco distributor.
If you're looking for a quality company that offers both stability and growth, then Matco Tools is it:
Ranked as the #1 Tool Distribution franchise in 2012 by Entrepreneur Magazine five out of six years running...
Recognized as Best Automotive Franchise in 2009 by Franchise Business Review...
Considered to be one of the top franchise opportunities available.
Matco offers industry-leading training, on-going field support, pre-identified customers, and in-house financing — everything one needs to launch a successful business.
Fill out the form to the right to learn more about starting a Matco Tools franchise.