Veterans Franchise Program
UP TO $10,000 OF EXCLUSIVE INCENTIVES*

Matco Tools is a proud member of the International Franchise Association (IFA).
The purpose of this program is to reward veterans for their service to the USA and offer financial assistance to enter self-employment.
Offer is valid for all U.S. Armed Forces veterans, regardless of their date of discharge.
In addition to being an IFA member, Matco Tools provides exclusive franchise opportunities for veterans. GET UP TO $10,000* for veterans to start their own franchise. As of today, Matco has provided over $4.3 million in credits to help support over 430 U.S. veterans.
Explore Franchise Opportunities for Veterans
A franchise business aligns very closely to the characteristics and habits of a military veteran. A franchise gives you the opportunity to run your own business and determine your own success. The years of military training helps to form successful habits that translate directly to entrepreneurship, specifically a veteran-friendly franchise
Veteran Franchise Benefits
A franchise takes the guesswork out of running a business. With Matco Tools, you can open your own mobile tool store and get:
Delivery routes with 325 customers
In-house financing: Get up to 100% of your costs covered if qualified
Flexible hours: set your own schedule & your success
Get our FREE report and learn more about a Mobile Tool Franchises!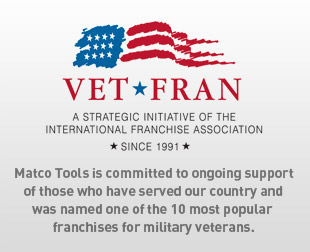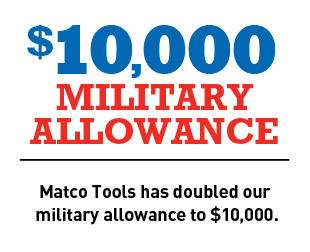 To qualify for this incentive, the following procedure must be utilized:
1. A copy of the Honorable Discharge Form (#DD214) must accompany the application.
2. The request for credit, $6,500 (net price of tools), is to be entered on page 5, section 9 of the application.
3. Upon submission, the Honorable Discharge Form will be reviewed and processed.
* Only Honorably Discharged veterans are eligible and may qualify for $10,000 of tools at list prices as incentive.